This year's virtual celebration of International Quilting Day will be our best yet! Our collaborators will include York Heritage Quilters Guild (Toronto) and Waterloo County Quilters' Guild (Waterloo). Please mark your calendar for Saturday, March 19, 2022. Festivities will begin at 9 am, Eastern Time and run throughout the day! Some of the events you can look forward to this year include:
keynote speaker Meg Cox's (megcox.com) presentation "Behind the Scenes at the Greatest Quilt Museum in the World";
a vendor showcase;
projects, demos and classes from guild members and presenters;
a virtual quilt show featuring work from all three guilds' members; and
door prizes!
2021 International Quilting Day Archive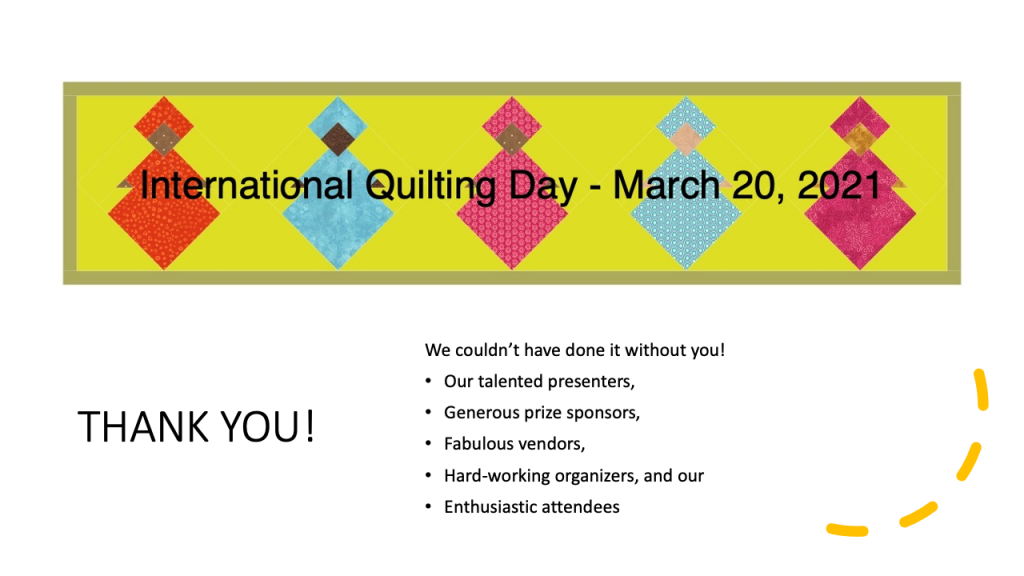 Important Links
Register to attend on March 20: rcqg.square.site
Registration will close at 5 pm Eastern Time on Friday, March 19 so we can prepare for the big event.
See below for more details about the event, including the schedule of presentations, demonstrations and workshops.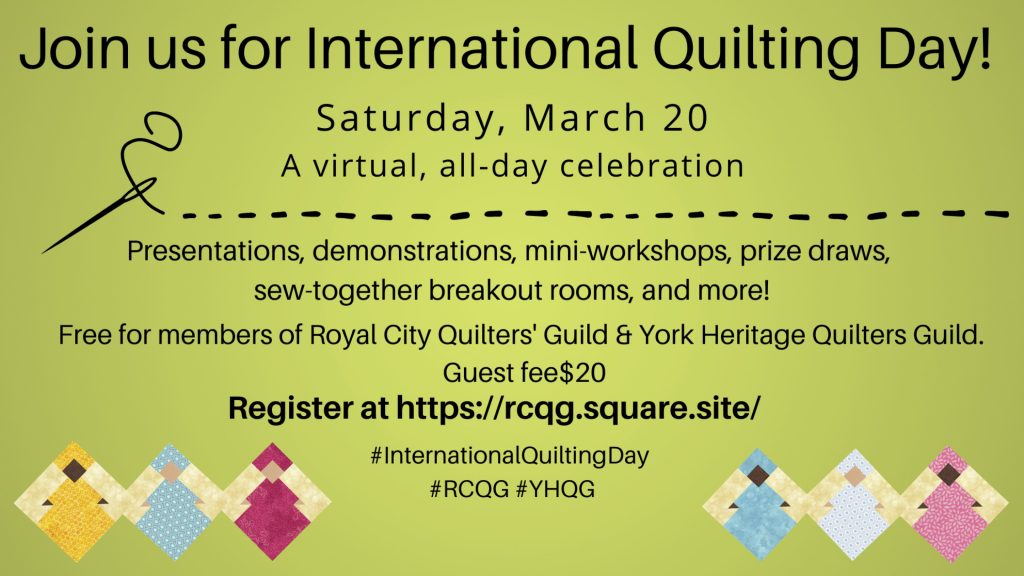 Social Sewing
For quilters who yearn for a bit of social sewing, our International Quilting Day celebration will include numerous breakout rooms for exactly that purpose. Please visit rcqg.square.site to register for the International Quilting Day main event. It is free for members of RCQG and YHQG. Guests may join us for $20.
Presentations, Demonstrations and Workshops
Are you looking to learn a new skill or polish a technique? We have 17 talented members from both guilds who will be sharing some of their favourite projects and techniques in 13 different sessions. Make yourself a cuppa and have a look at the schedule of sessions.
International Quilting Day schedule of sessions
How to sign up for presentations, demos and workshops :
Visit rcqg.square.site
Register for the International Quilting Day Main Event, if you haven't already. Registration will close at 5 pm Eastern Time on Friday, March 19.
Then, sign-up for any of the presentations, demonstrations, or workshops that interest you. Several have capacity limits so don't dally.
Check out!
Tuck your order confirmation in a safe place so you can review it on the big day.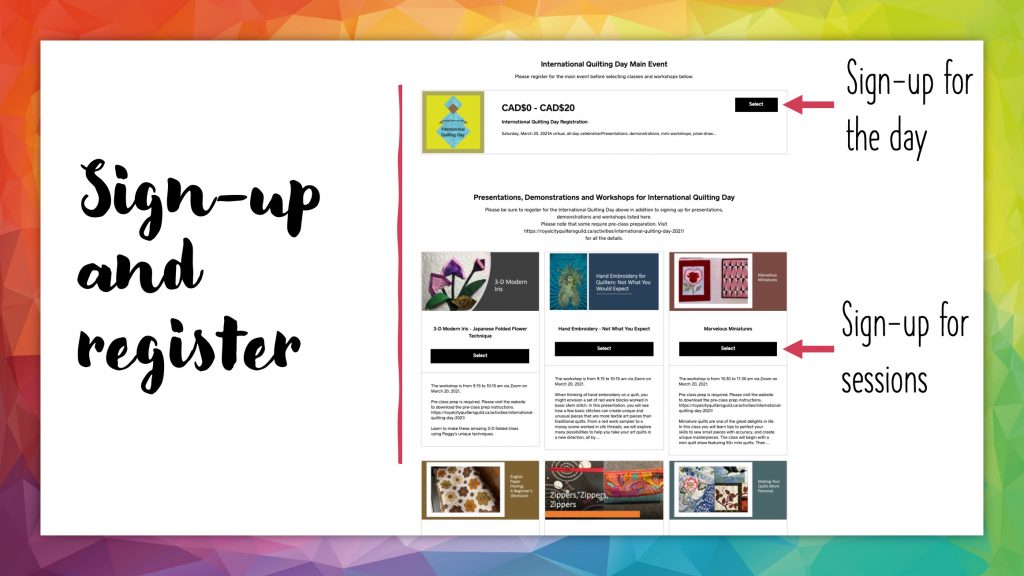 Preparing for the Day
All attendees should ensure they have the latest Zoom updates installed and that they know how to navigate between breakout rooms.
Watch Lindsay's new tutorial including info on breakout rooms!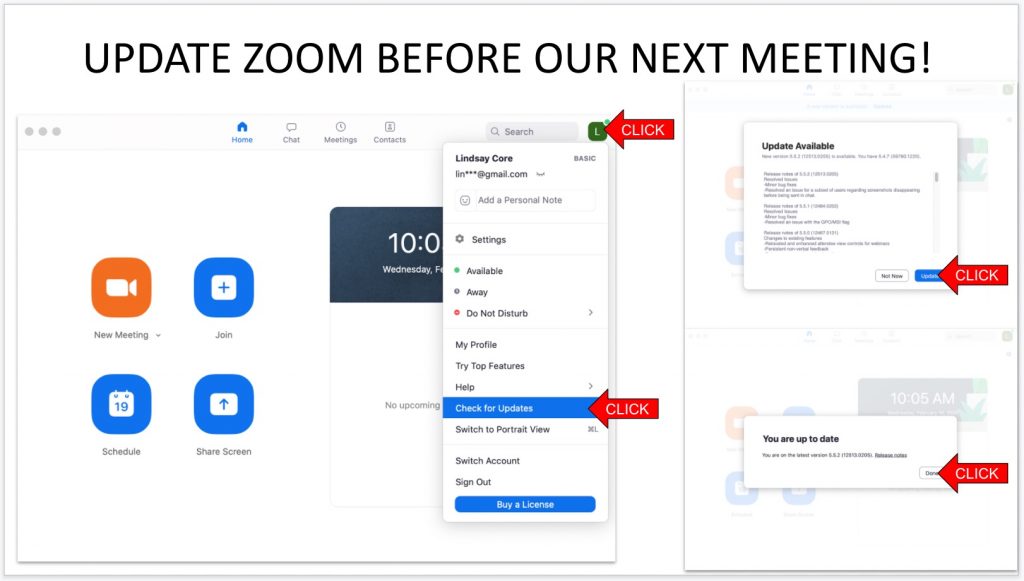 Some sessions have pre-class prep requirements so you can spend your time sewing! You can download pre-class prep info here:
But . . . I Thought RED was the Brightest Colour!
International Sister Quilt Block
Unusual Paper Piecing - Raccoon block - This session has two handouts: . If you are attending this session, please be certain to print the template. If you wish, you can transfer the template to some of your fabric.
Handout 1
Handout 2
How to participate in the Virtual Quilt Show
RCQG and York Heritage Quilters Guild are co-hosting a virtual celebration of International Quilting Day on Saturday, March 20. Some of those attending International Quilting Day have submitted quilts for our Virtual Quilt Show.
We are showcasing the work quilters completed during the COVID-19 quarantine. Their quilts may have been started at any time, but they have been finished over the last year.
To contact us with questions about the quilt show, please email Deb (from YHQG) at IQDQuiltShow@gmail.com