November Events
Visit RCQG's online store to join the guild; sign up for one of our workshops; or buy a visitor's pass to an upcoming meeting.
Download the 2021-2022 Programs, Workshops, and Events Schedule [pdf]
October Newsletter
The RCQG October newsletter was sent on Monday, October 4.
It is available here.
(Updated Oct 4, 2021)
RCQG and the Guelph Public Library Collaborate
The RCQG has a few upcoming collaborations with the Guelph Public Library.
First, on October 6 at 7pm the library will be presenting a live virtual presentation called: Royal City Quilters' Guild- Finding the Silver Lining during Covid
Registration is required to receive the event link. Please register here: https://guelphpl.libnet.info/event/5565202
If you miss the live event a recording will be available here following the event: https://guelphpl.libnet.info/event/5565416
Second, in the month of October there will be a quilt display at the Main Branch of the Guelph Public Library. The quilts on display will be a variety of traditional and modern pieces by members of our Guild.
(updated Sept 14, 2021)
September Newsletter
The RCQG September newsletter was sent on Tuesday, Sept 7. It is available here.
Apologies to our advertisers - I realized that I forgot to add clickable links to all of your newsletter ads. It will be fixed for next month. In the meantime, here are links to all of our advertisers:
Country Concessions (Cookstown)
Pro Sewing Machine Doctor (Locations across Southern Ontario)
Buy the Bolt (Guelph)
Make One (Guelph)
Caroline Quilts (Cambridge)
The Quilt Place (Shakespeare)

(updated Sept 7, 2021)
RCQG Workshop Update!
Please visit the RCQG Workshops page for all the details about the three workshops we will offer this year.
Wild About Strings! November 20, 2021
Color Sense Workshop - February 19, 2022
Modern Quilting With Your Walking Foot - April 23, 2022
Workshop registration is open now. Visit our online store to sign up.
Download the 2021-2022 Programs, Workshops, and Events Schedule [pdf]
RCQG Summer Mystery Quilt - Milady
Join the fun! Three RCQG members have worked together to offer a Summer Mystery Quilt to the Guild. It starts on July 1, 2021. You can find the weekly clues here (RCQG>Activities>Milady Summer Mystery 2021).
(Published July 1, 2021)
RCQG's 2021-2022 Lineup
Royal City Quilt Guild will resume virtual meetings on Tuesday, September. 14, 2021. View our 2021-2022 schedule of speakers here.
Interested in joining us? New members are always welcome. Visit our online store to join today!
Download the full schedule here: PDF updated July 23
June Newsletter is Online
The June newsletter is now online (published June 1).
Rhonda Dort is Our June Speaker
Join Royal City Quilters Guild as we welcome Rhonda Dort. We encourage RCQG members who participated in one of Rhonda's Facebook classes to send photos of your work for Show and Share. Visitors are welcome. Visit our online store to buy a visitor's pass. The meeting starts at 7 pm Eastern Time on Tuesday, June 8. There will be a brief Annual General Meeting before our speaker.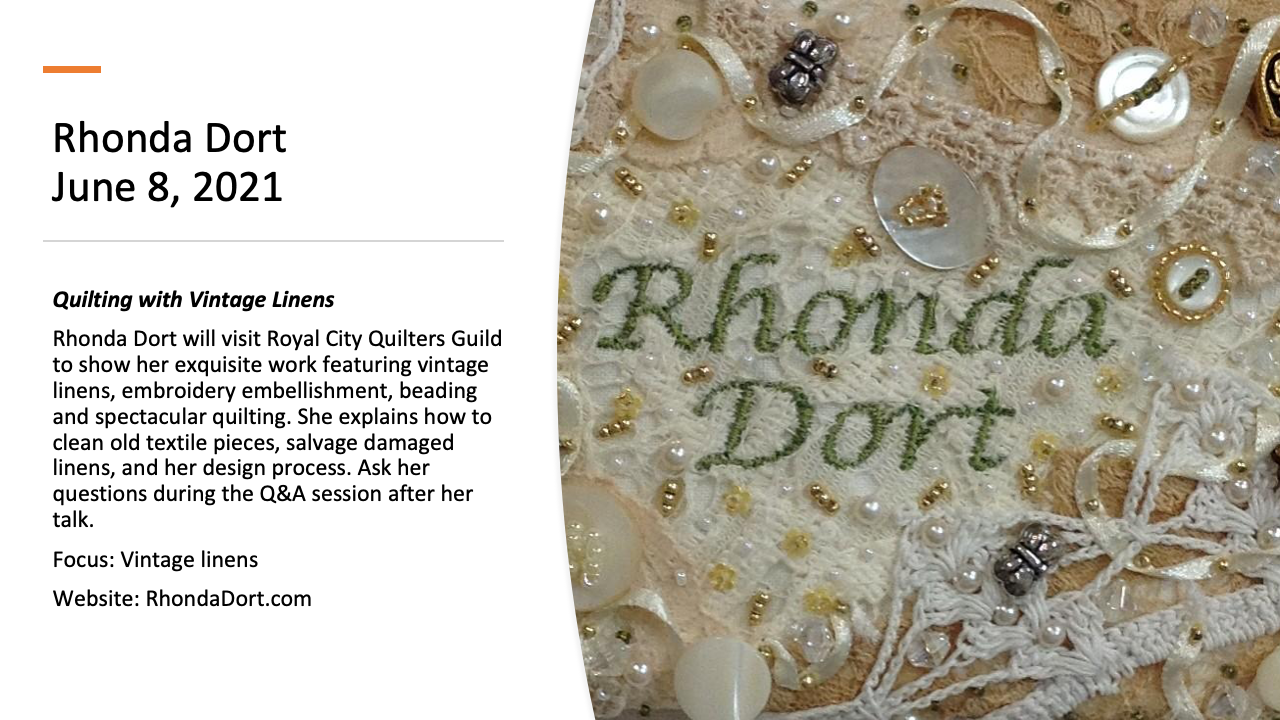 May Newsletter is Online
The May newsletter is now online (published May 3).
Coming in May!
April Newsletter is Online
The April newsletter is now online (published April 6).
RCQG's April Events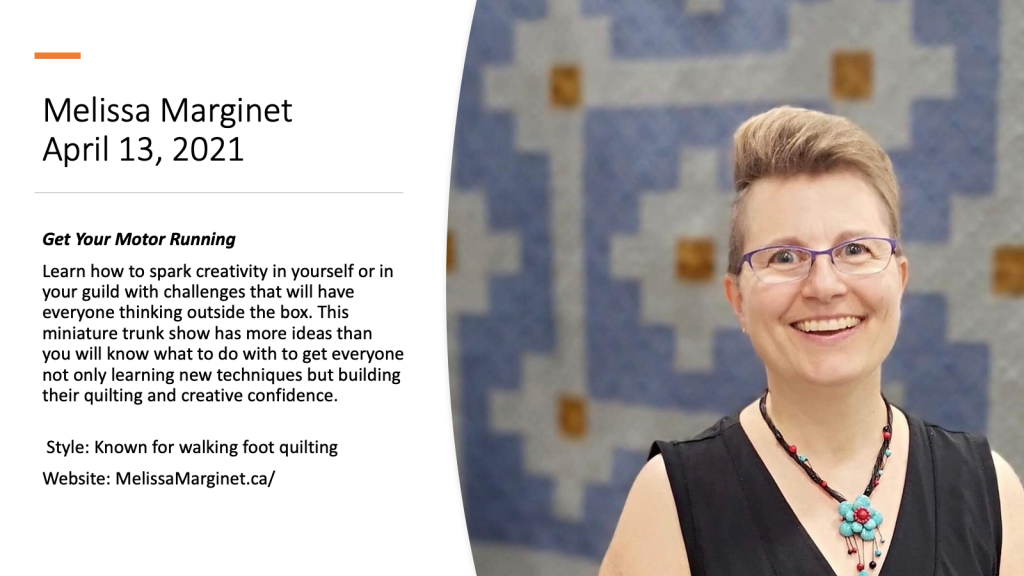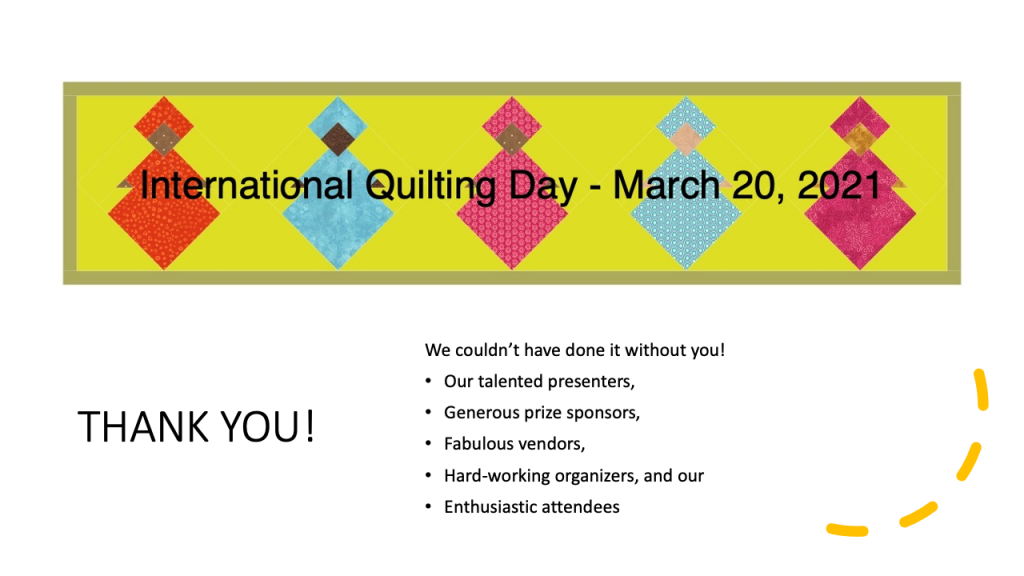 March Newsletter is Online
The March newsletter is now online (published March 1).
RCQG's March Events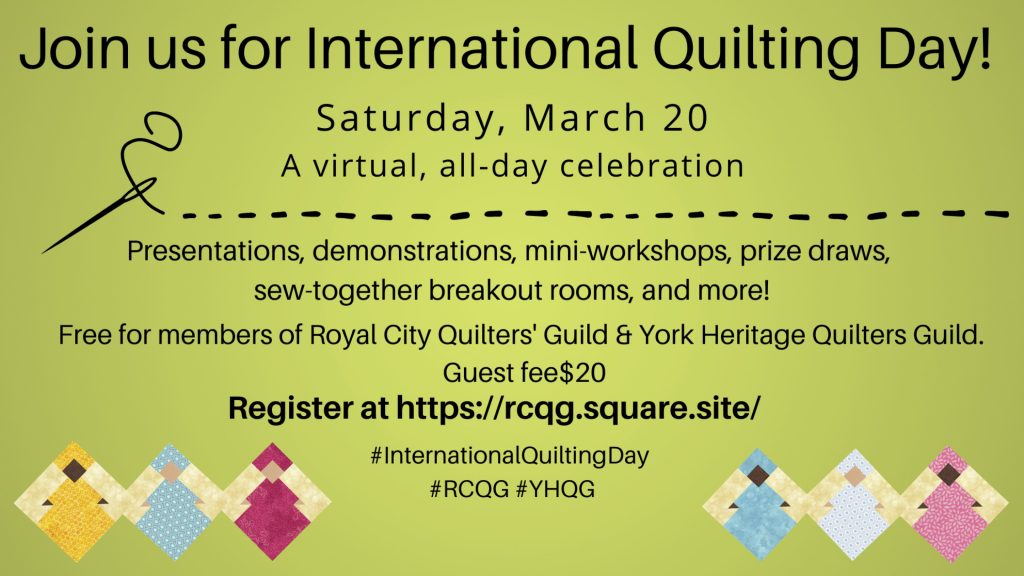 Visit our International Quilting Day Page for more details about the event.
February Newsletter is Online
The February newsletter is now online.
RCQG Welcomes Valerie Bothell on February 9
Non-members can purchase a $5 visitor's pass in our online store.
January Newsletter is Online
The January newsletter is now online.
https://mailchi.mp/4f596d8bfc2e/december2020-newsletter-4528817

Published January 5, 2021
RCQG Welcomes Pat Speth on January 12
Non-members can purchase a $5 visitor's pass in our online store.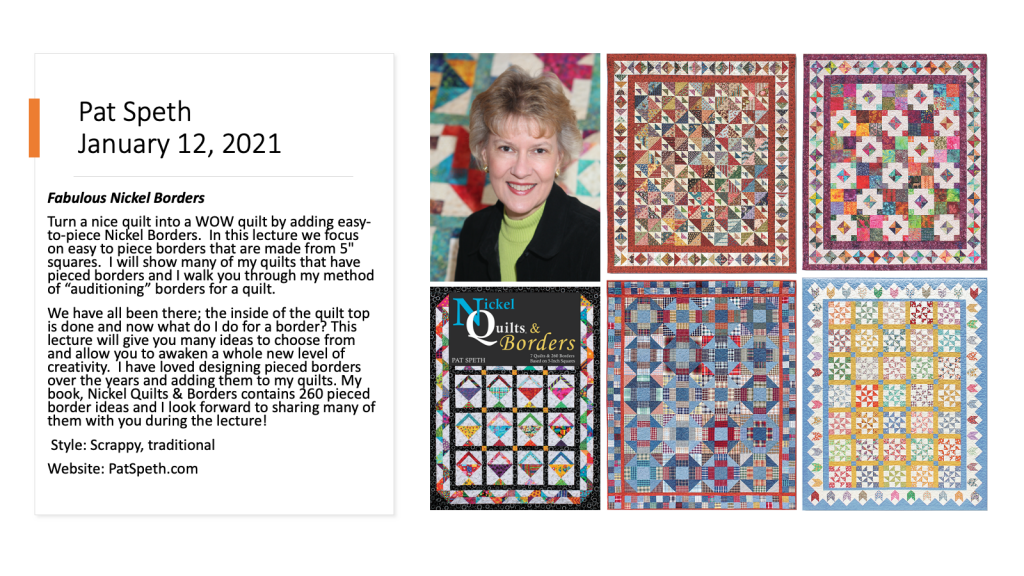 December Newsletter is Online
The December newsletter is now online.
https://mailchi.mp/4f596d8bfc2e/december2020-newsletter-4528817

Newsletter Correction: The links to two of our sponsors are missing in the newsletter. There are sales on now and this is an important time of year for so many local shops, so here are the missing links:
CarolineQuilts - Cambridge
The Quilt Kitchen - Exeter
Please be sure to visit these and all of our other sponsors in the newsletter.
Published December 1, 2020
Non-members can purchase a $5 visitor's pass in our online store.
RCQG Welcomes Karen K Stone on December 8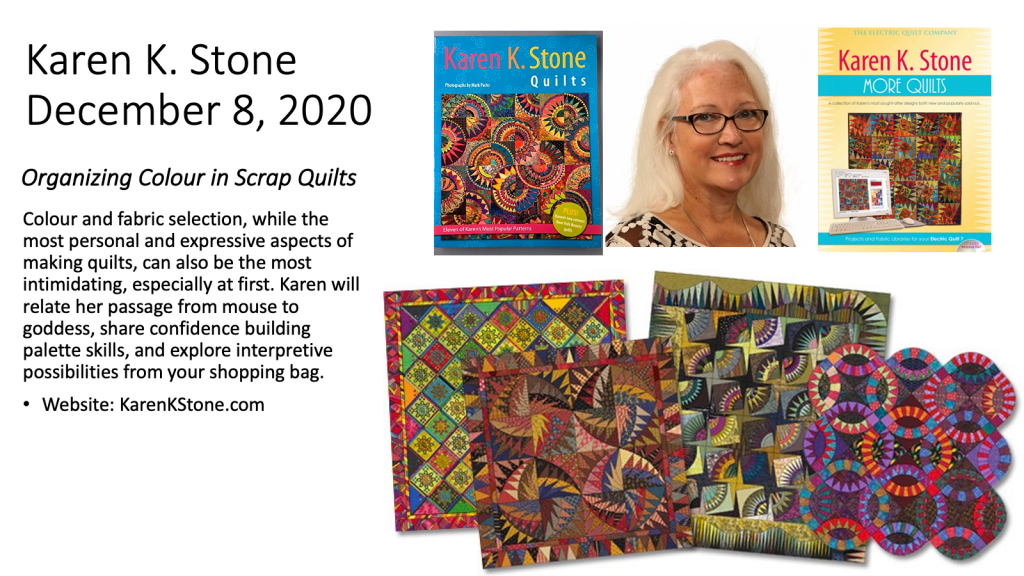 RCQG 2020-2021 Virtual Program
(Updated November 19, 2020)
RCQG November Newsletter
The November newsletter has been published. Members should have received it to their email. A copy of the newsletter can always be found here.
RCQG November Meeting: Sponsor Showcase
Get a front row seat as some of the sponsors who advertise in our monthly newsletter showcase some of their favourite tips, tricks, and new products.
As always, one of the Guild's Special Interest Groups will be highlighted.
Stick around at the end of the meeting to meet someone new in one of the breakout rooms. It's a great place to visit and and meet other Guild members.
Published Oct 19, 2020
Online Bee Day: Saturday, October 24 from 10am-3pm
October is Bee Month, and we're making quilts for Community Outreach.
See the October newsletter for instructions on how to sign-up, and how to get a kit if you need a project to work on during the month of October. All completed quilt tops and quilts will be eligible for a prize draw at the November Guild meeting.
On October 24th members are welcome to join us for a day of working on projects for Community Outreach from home. We will start the day with a Zoom check-in, and we'll check-in again around lunch time, and again at the end of the day for a show-and-share to see what you worked on. It promises to be a great sew-cial event.
Published Oct 19, 2020
RCQG October Meeting: Express Yourself with Sharon Blackmore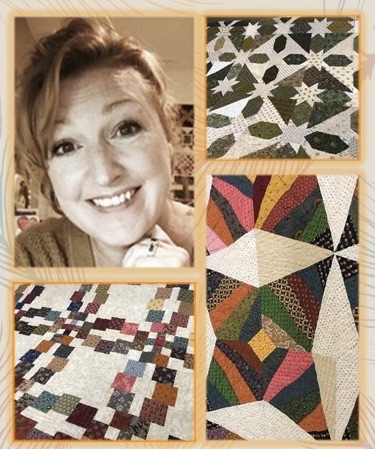 Learn the essential elements of show stopping quilts, and how to infuse these key ingredients into your own quilting, in any style! This educational style trunk show will arm you with the 3 secrets to creating successful dynamic quilts, allowing your quilts be a true reflection of who you are. You will gain insight and inspiration to choose fabrics with confidence, as you learn to embrace the creative journey that quilt making offers.
Website: loveshackquilts.ca
Published September 14, 2020
RCQG September Program
In September we will welcome Krista Hennebury as she takes us through her 20-year quilt practice from traditionally enthusiastic beginner to quilt blogger, author, and fearless improv teacher.
Krista will share practical advice for anyone seeking their own voice in quilt making, while at the same time staying connected to sources of inspiration from print media, social media, guild show and tell, quilt shows, and conferences.
Presenter: Krista Hennebury
Presentation: The Search for a Signature Style
Style: Modern
Website: http://poppyprintcreates.blogspot.com/
(Published August 18, 2020)
RCQG Has Gone Virtual!
In early May, the Executive Team decided that Royal City Quilters guild will transform itself into a virtual quilt guild until it is safe to resume in-person meetings. We shared the rationale for that decision in our May newsletter to members.
During the Spring, we held three virtual guild meetings using the popular online platform, Zoom. The local newspaper profiled our efforts.
Before each meeting, we share a quick tutorial for those who are new to Zoom. Once the President calls the meeting to order, we make announcements and conduct any guild business before turning over the meeting to our guest speaker for a virtual trunk show. Of course, members always have questions for the speaker at the end of the trunk show. We wrap up the official meeting with Member Show and Share before adjourning to Zoom breakout rooms for a little member-to-member socializing.
Although we miss spending time with our quilting friends, we're excited about our new virtual format. We can welcome members, guests and speakers from all over the world. No one has to drive in bad weather or after dark. Everyone gets a front row seat to see the beautiful quilts and projects shared each month.
Each summer, our guild goes on a summer hiatus. Our virtual meetings will resume Tuesday, September 8. If you'd like to join us, please visit our online store and purchase an annual membership. Until our meetings resume in the Fall, we are sponsoring a summertime mystery quilt for our members with clues published every two weeks. If you'd like to participate in the summertime mystery, please use this form to let us know.
For more information about Royal City Quilters Guild, send an email to president@royalcityquiltersguild.ca or membership@royalcityquiltersguild.ca.
(Published July, 2020)
RCQG Now Accepting Online Payment
You can now use credit or debit cards to sign up for workshops, renew an existing membership, purchase a new membership, or make a donation. Visit the online store by clicking the button found on the right. If you have any problems, use the contact form at the bottom of the page to let us know so we can follow up.
(Published June, 2020)
June Meeting
Our next Zoom Guild Meeting will be on June 9, 2020 at 7:00pm.
Please watch your email for the Zoom invitation.
The June meeting will include our annual AGM, and a trunk show by Mary Pal. http://marypaldesigns.com/
(Published June, 2020)
RCQG Profile in Guelph Today
The Guild is in the news! Thanks to Barbara Geernaert for a great article about all the great work our Guild has been doing.
https://www.guelphtoday.com/helpers/royal-city-quilterss-guild-goes-outside-its-comfort-zone-to-maintain-important-connnections-2286677
(Published April 27, 2020)
Nurse's Gowns
April 2, 2020 Update: We have been asked to make more gowns. Fabric and elastic is being sourced. An email will go out to the Guild email list about pick-up and drop-off locations if you'd like to help with sewing. Thanks for all your help. Hospice and the midwifery clinic have been grateful.
April 5, 2020 Update: The pattern has been updated again with a narrower sleeve. The fabric has been picked up and is just being cut into kits. It should be available for pickup on Monday, April 6.
Pattern corrections:
Thank you to Trish's (Guild members) daughter Rachel who has worked in garment production. She updated the pattern for us to fix some of the problems with the sleeve hole and seam allowances.
Fabric requirements:
2.5 metres of a durable cotton or poly-cotton. Any pattern or colour is fine.
Elastic: 14 inches (7 inches per sleeve)
Ties: 80 inches for waist, 30 inches for neck
Thread
Instructions:
-If you don't have elastic, a cuff can be made of t-shirt jersey (see below).
-If you don't have tape for the ties, bias tape can be made from fabric and sewn with a single line of stitching.
-These will get lots of wear and washing, so please use a tight zig-zag stitch, or a folded seam, or a serger.
-Please do NOT make gowns if you are feeling ill or are in quarantine.
-Please wash your hands before you handle the fabric for cutting or sewing.
The pattern can be found here:
https://royalcityquiltersguild.ca/wp-content/uploads/2020/04/gowns_updated_ap2.pdf
This version has a narrower sleeve (5 inches) which the midwives have requested:
https://royalcityquiltersguild.ca/wp-content/uploads/2020/04/RCQG_Gown_NarrowSleeve.pdf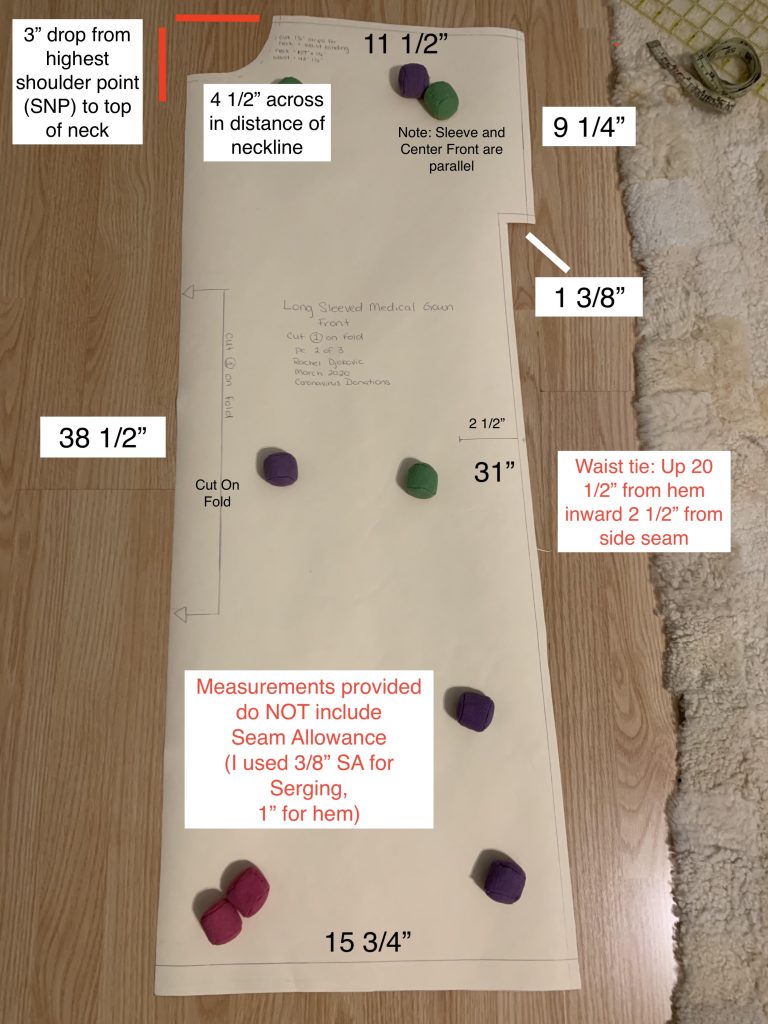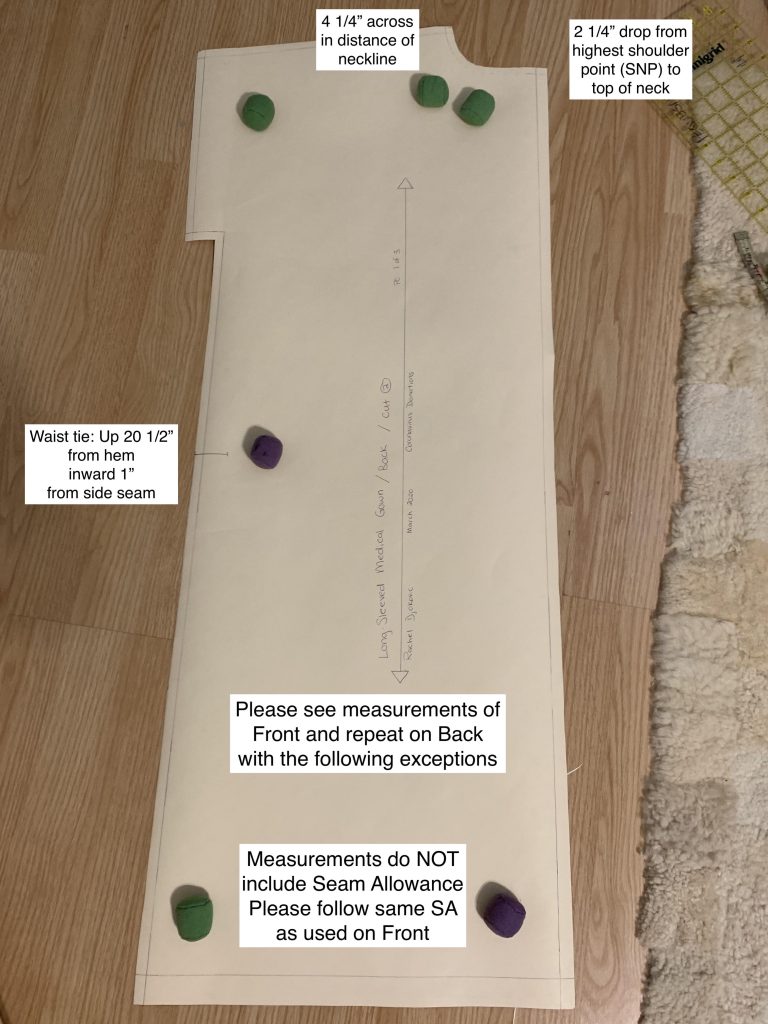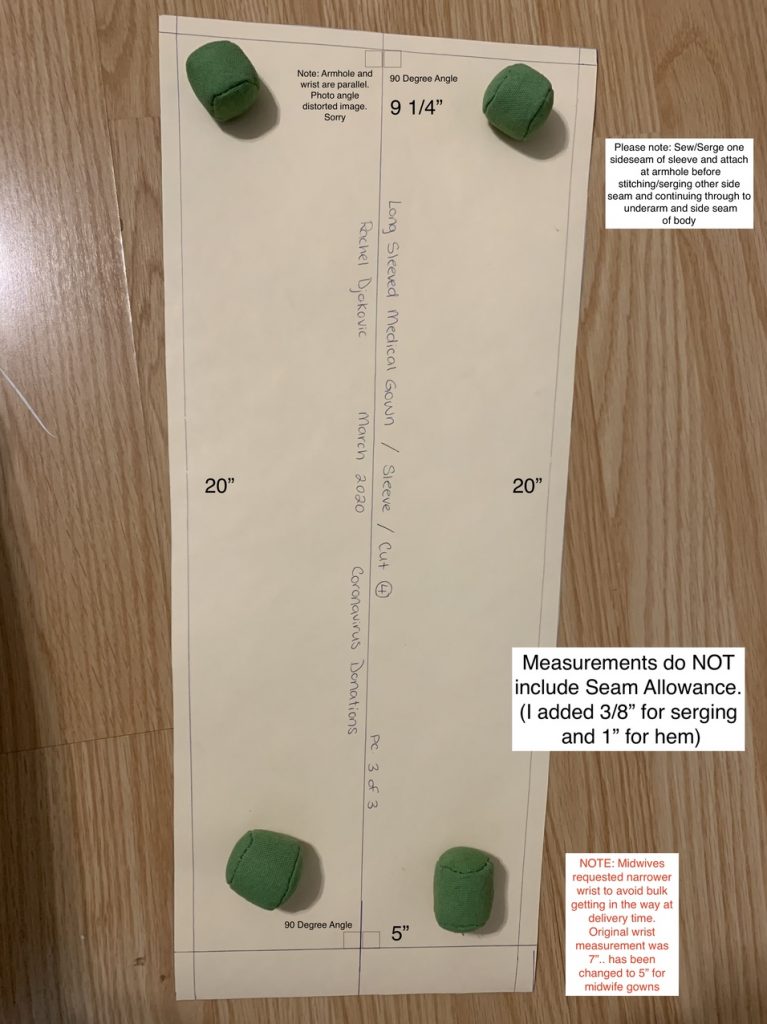 Virtual Sew-In
All in-person RCQG meetings are cancelled until further notice.
Join us on Saturday, March 21 for a virtual sew-in. Check your email from a message from the RCQG list for information about how to join.
Our goals for the sew-in day are to help reduce feelings of isolation, to give away some prizes, and to help you feel that you have a community of quilters around you. Sew on!
9:00am Update: Send a photo of your project for the day and a message to your fellow quilters. The prize is a gift certificate to MakeOne in Guelph.
9:30am Update: Keep track of the number of seams ripped out for the 3:00pm challenge. Prize is gift certificate to Country Concessions.
10:00am Update: The oldest UFO wins a gift certificate to The Quilt Place.
11:00 am Update: Show us the blue fabric you're working on today. Prize is a gift certificate to Triangle Sewing.
12:00pm Update: Show us your hand stitching. Prize is a gift certificate to Sew Fancy.
1:00pm Update: Answer the question "I love quilting because..." for a gift certificate to Border Creek Station.
2:00 pm Update: Domestic or longarm quilting for a gift card to Cobwebs and Caviar.
3:00 Update: Your tally of seams ripped for a gift card to Country Concessions. A final post about what you accomplished and some final words of encouragement for your fellow quilters for a gift card to Meerkat Shweshwe.
4:00 Update: It's a wrap! Thanks for all the fun. Winners will be emailed.
(Published March, 2020)