Instructor: Dawn Piasta
Cost: $ 35
Date: Saturday, January 20, 2024 from 10:30 am to 5:00 pm (Eastern)
Location: Online via Zoom
Website: http://www.dewpointarts.com/
SOLD OUT: To add your name to our waiting list, please contactAnn Jeffrey (Workshop Chair) at annjeffrey44 [at] gmail [dot] com.
Workshop Description:

Dawn will be teaching how to blend, choose colours, apply colours and medium, create your own unique templates to colour, add details, shade, create highlights, finish and incorporate your work into other quilts.
You will be introduced to the Apliquick method of appliqué.
There are videos, templates and links so that you can get a clear picture of how she creates her small piece.
Instructor Bio:

Dawn Piasta is a fibre artist living in Dauphin, Manitoba, Canada.
She is inspired by playfulness and uses her artistry to awaken the memory of special moments in her life. Dawn's subject matter reflects her unique vision of the world in which she lives; passionate, energetic and spirited.
You may have seen her presentation of Inktense possibilities at International Quilters Day 2023. Now you have a chance for a workshop to make a piece of art for yourself.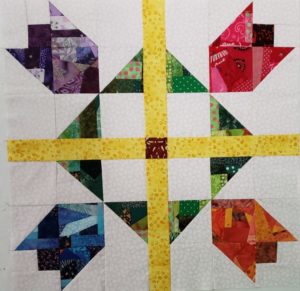 Instructor: Brita Nelson
Cost: $ 45
Dates: Saturday, April 6, 2024 from 12:30 to 4:30 pm [Eastern]
Location: Online via Zoom
Website: https://questioningquilter.com/
Workshop Description:

Learn how to turn the tiniest scraps into a beautiful quilt. In this class we will discuss tint, tone, shade, value and scale to take your tiniest scraps and turn them into one-of-a-kind textiles. We will use this new fabric to make a simple tulip block, but once you master this technique, there is no limit to what you can create.
Brita's simple, organized method for assembling your curated crumbs results in fabric that is part planned, part free-form and totally fun!
Instructor Bio:
In April of 2017, Brita retired from work, moved back to PA and devoted herself to serious quilting and sharing her passion for quilting. She is well-known for her YouTube videos on disappearing blocks.