September 2022 - Jennifer Houlden - Hybrid meeting
Creating Contrast in Your Quilts
This trunk show explores the effective use of contrast to create dimension, movement and visual harmony, while supporting the initial attraction of colour in great quilt designs. Jen also talks about the many different ways and techniques that can be used to create contrast and achieve the WOW factor we are all looking for in our work.

Join Jen as she takes you through a visual evening, highlighting an array of quilts and discussing how she creates and achieves contrast in her quilts.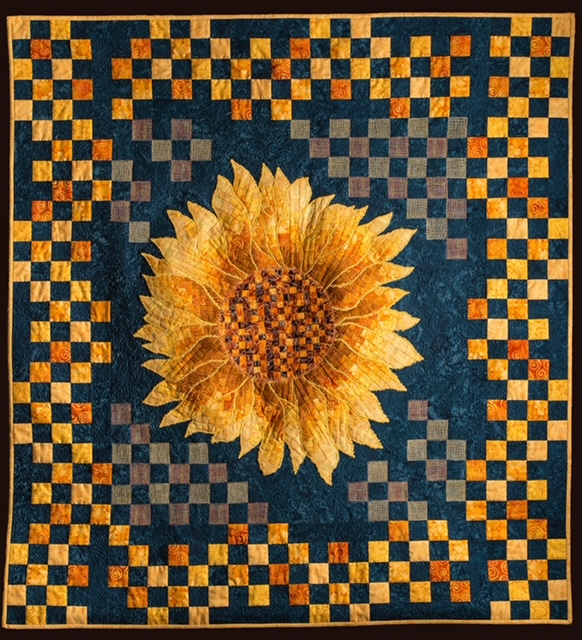 Jennifer Houlden is a nurse by profession and a textile artist by passion. She has a wonderful off-grid cottage studio surrounded by the beautiful landscape of the Canadian Shield where she creates one-of-a-kind art quilts, modern and traditional quilts, as well as charity and memory quilts.
Her love of textiles, quilting, teaching and designing first manifested itself when she was living in the Arctic and further developed in the Australian Outback. Upon returning to Canada in 2011, she developed her own label, Quilts by Jen, and began teaching, lecturing, designing and creating.
October 2022 - Sue Sherman - Hybrid meeting
Quilting Journey of a Renaissance Woman
This trunk show highlights Sue's quilting journey from the first pieced quilt through a variety of traditional and art quilting techniques. It includes her time in Hawaii where she learned Hawaiian quilting and its traditions, as well as her experiments with different types of art quilting before she settled on her current technique of painting with dyes.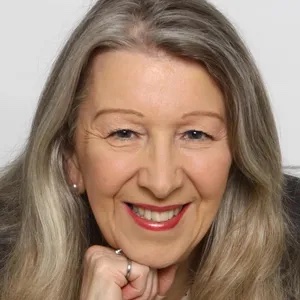 Sue's fabric creations connect her to the spectacular places and wildlife she has seen in her travels. She aims to give the animal kingdom a voice, by transforming white cotton into lifelike creatures through many hours of precise painting with dyes and thread. She is passionate about protecting earth's creatures, along with their habitats, and hopes her work will inspire you to share her sense of urgency around this message.
Sue's quilts have won awards at national and international quilt events including the (Canadian) National Juried Show, the American Quilts Association (Charleston), the International Quilt Festival (Houston) and the Festival of Quilts (Birmingham). Sue is also a Juried Artist Member of Studio Art Quilt Associates (SAQA).
November 2022 - Naomi Smith - Hybrid meeting
My Quilting Journey from an Indigenous Eye
Naomi is an Indigenous Artisan and Educator from the Chippewas of Nawash First Nation in Neyaashiinimiing. For over 25 years, Naomi has focused on sharing teachings about the Indigenous people of the Woodlands and Northeastern region from a historical and contemporary perspective, often through the story of beads. Her work embraces ancestral designs in the form of bags, adornment and traditional accessories.
Naomi's work has been exhibited across Canada and internationally. She has exhibited at the National Museum of the American Indian (NMAI) (Smithsonian) in Washington, DC and New work; the Vancouver 2010 Olympics, Peel Art Gallery Museum and Archives, Art Gallery of Guelph and participated in events throughout the year prior to the pandemic.
Naomi's artwork is in permanent collections at the Museum of Fine Art in Boston, MA; the Art Gallery of Guelph; Schneider Haus; and private collections throughout the world.
While many of her lectures and presentations are art-themes, Naomi also talks about her 60s Scoop experience and how it has affected her life journey. She provides insight into her Indigenous world which is a unique blend of traditional teachings and colonial experiences.
December 2022 - MJ Kinman - Virtual
Quilts Inspired by the Smithsonian's National Gem Collections
MJ's "Smithsonian Series" slide lecture and trunk show introduces you to the artwork inspired by the most beautiful gems in the world. Learn about the gems and their amazing stories, including the amazing people who were caught up in their orbits.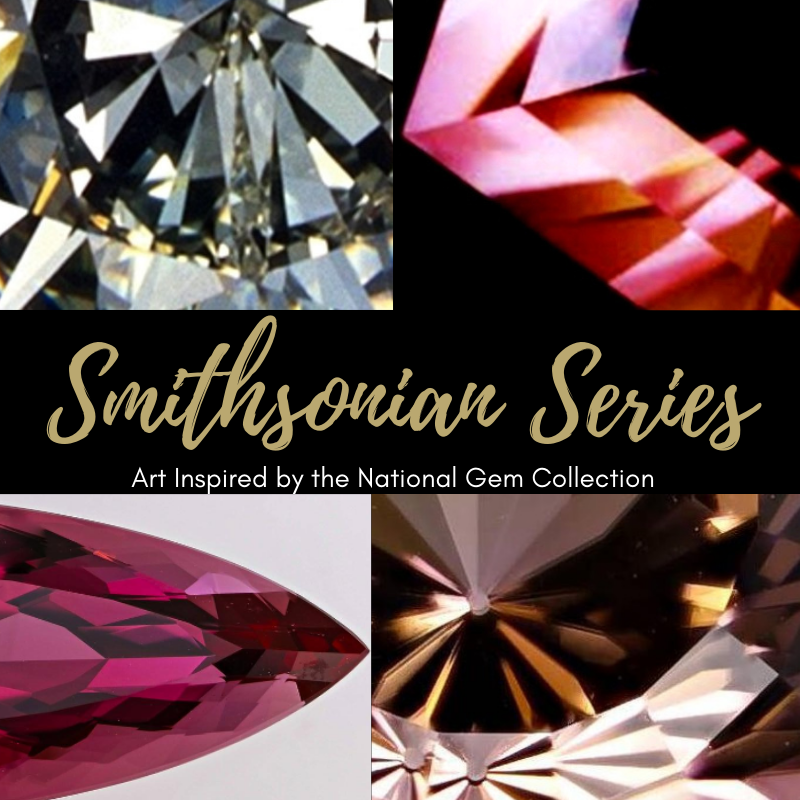 MJ likes to say she makes the biggest diamonds in the world. But instead of using the hardest substances in the world, she uses the softest - cloth. She describes the techniques she uses to create her giant gem portraits as traditional piecing using freezer paper for templates.
MJ's work has been exhibited in national competitions, galleries, and museums, including the National Quilt Museum and the International Quilt Museum. Her work is included in private and public collections, including Maker's Mark Distillery and the National Quilt Museum.
Her gems have been featured in American Quilter, Quiltfolk, Quilting Arts Magazine, McCall's Quilting, France Patchwork and others. You may also have seen MJ on Quilting Arts TV and The QuiltShow.com with Alex Anderson and Ricky Tims over the past few years.
MJ's first pattern series, the Birthstone series, is a collection of 12 blocks representing the traditional birthstone gems. Her Diamond Divas series features large diamond quilt patterns. Her first book, Gemstone Quilts, was released by C&T Publishing in 2020.
MJ is a BERNINA Brand Ambassador and is always delighted to share her techniques with new and experienced quiltmakers alike.
January 2023 - Krista Moser - Virtual
Diamonds are a Quilter's Best Friend
In this show/lecture, Krista tells her story, how she started very young and went on to design her own quilts and patterns. She typically works in design concepts and colour theory while showing different quilts. Expect a crowd-pleasing presentation, complete with Q&A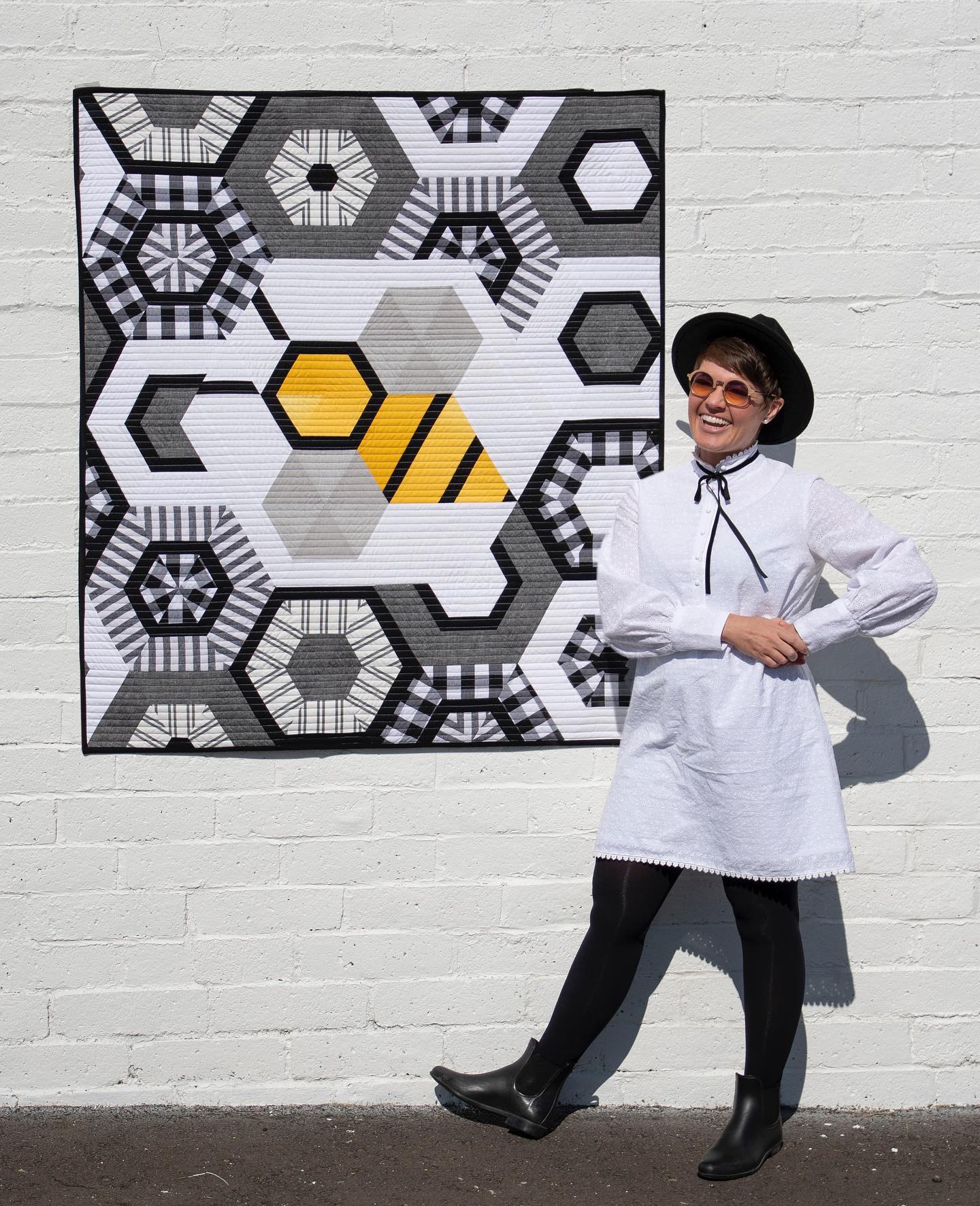 Krista Moser is the creative force and inspiration behind Krista Moser, The Quilted Life. A sewing enthusiast and quilt pattern designer, she has published more than thirty patterns since 2016 with more in development. She is the designer of the Creative Grids 60 Degree Diamond Rulers and has been teaching sewing and quilting lessons for more than twenty-five years. Her work has been featured in quilting magazines, published in books, and hung in prominent shops around the country. She is wild about all things quilting and loves to share her passion.
February 2023 - Kestrel Michaud - Virtual
This presentation features a deep dive into Kestrel's creative history and artistic process. Her award-winning quilts are the culmination of a lifetime of artistic growth, and the first half of this presentation explains how Kestrel has gotten to where she is today. It's a biographical look at her artistic life, from when she started drawing and won her first art show as a 9-year-old kid, through discovering fabric in High School, re-discovering fabric in art college, and finally transitioning to quilting in her late 20s. She'll share artwork she made in every phase of her life, although the focus is on the fabric.
The second half of "Kestrel's Creations" is about Kestrel's process. She's used the same fundamental creative process for every fabric picture or quilt she's ever made, although her workflow underwent a major overhaul as she transitioned from analog to digital. Using behind-the-scenes photos and videos from the makings of multiple quilts, Kestrel will take you step-by-step through her entire design process, from initial sketch to free-motion quilting.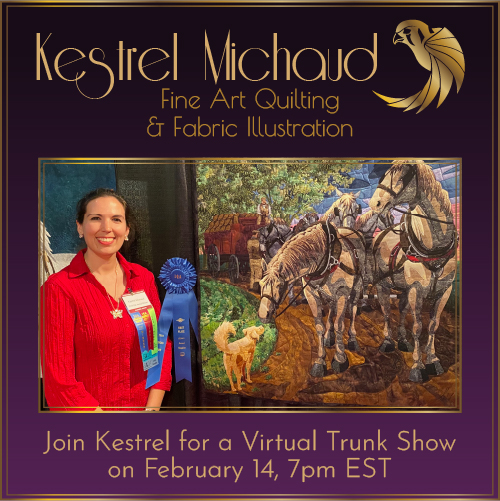 Kestrel Michaud is a classically-trained and award-winning fine artist, graphic designer, and illustrator with a passion for creating imaginative realism art quilts. She graduated with honours in 2010 from Ringling College of Art and Design with a BFA in Illustration. Her fine art training, creative mind, inventive nature, 18 years of experience, and unique style make Kestrel's work unlike that of any other artist.
March 2023 - Paul Leger - Hybrid
A Quilter's 30-year Journey
Paul's trunk show will feature his journey through 30 years of quilting. You'll see changes in his quilting style and designs starting with his first quilt. In sharing his journey, he'll also be sharing many stories. Some will have you say, "awwww" and others ask yourself "What was he thinking?"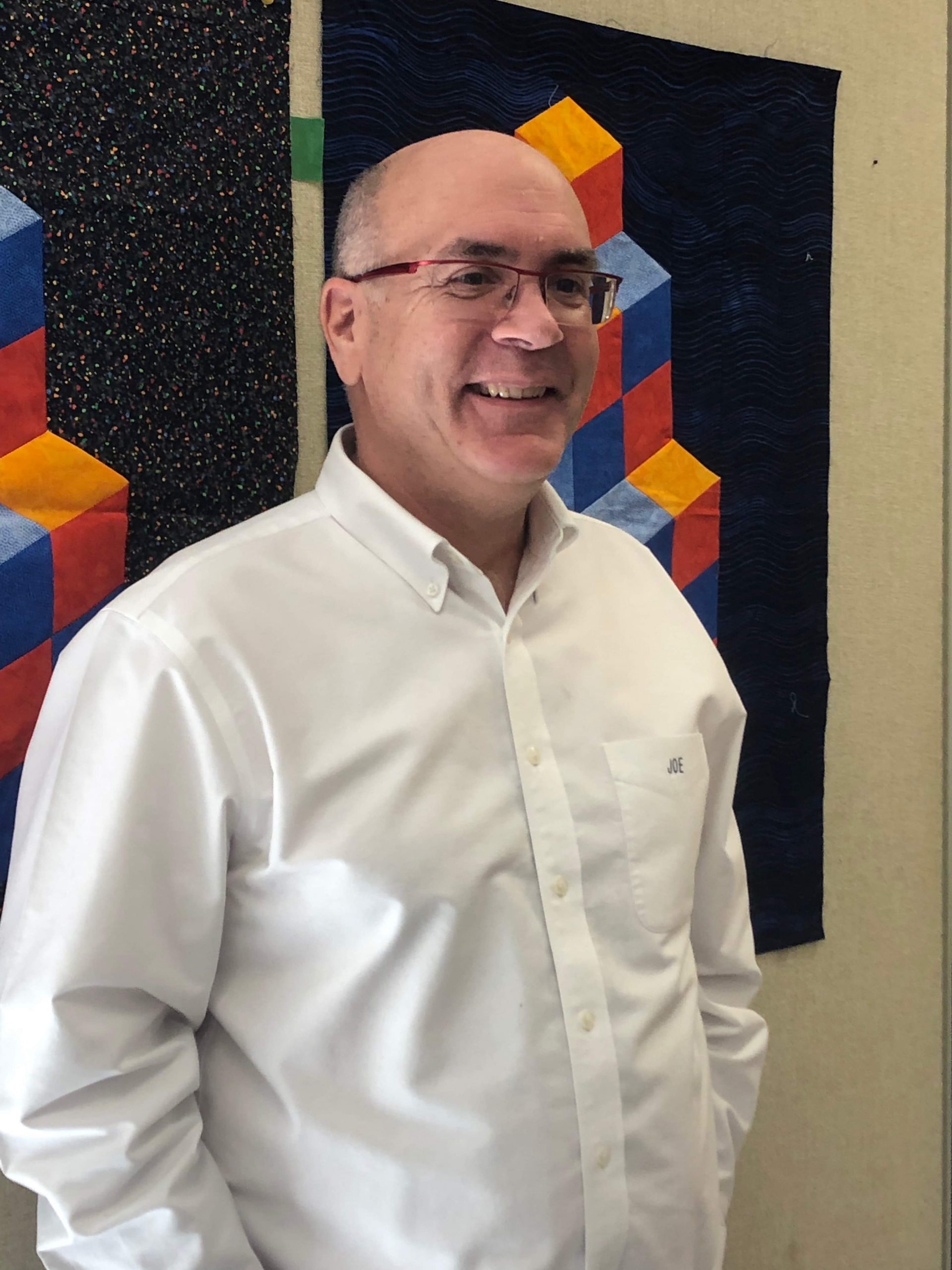 Paul lives in Ottawa. Prior to his retirement, we worked for the federal government for over 16 years and spent 21 years in the Canadian Armed Forces. He began quilting in May 1990. His mother, a quilter and dressmaker, had encouraged him to buy a sewing machine "for sewing emergencies." One day, he remembered in the "old days" people would use clothing to make bed quilts which he tried. With over 250 quilts to his credit over 31 years, Paul has never looked back.
In retirement, Paul's quilting has taken on another life. He doesn't quilt any more or any less but now is asked to teach, make presentations and to contribute to magazines and blogs.
April 2023 - Mary Elizabeth Kinch
The Wonder of Small Blocks
The secrets of small block and small pieced quilts are revealed during this inspirational and informative trunk show of stunning full-sized quilts made with small pieces. Find out why small blocks and small pieces are so addictive and how the chaos theory of quilting will change your life! You may think you will never make a full-size quilt with so many small pieces, but after this presentation, you will know that you can never say never!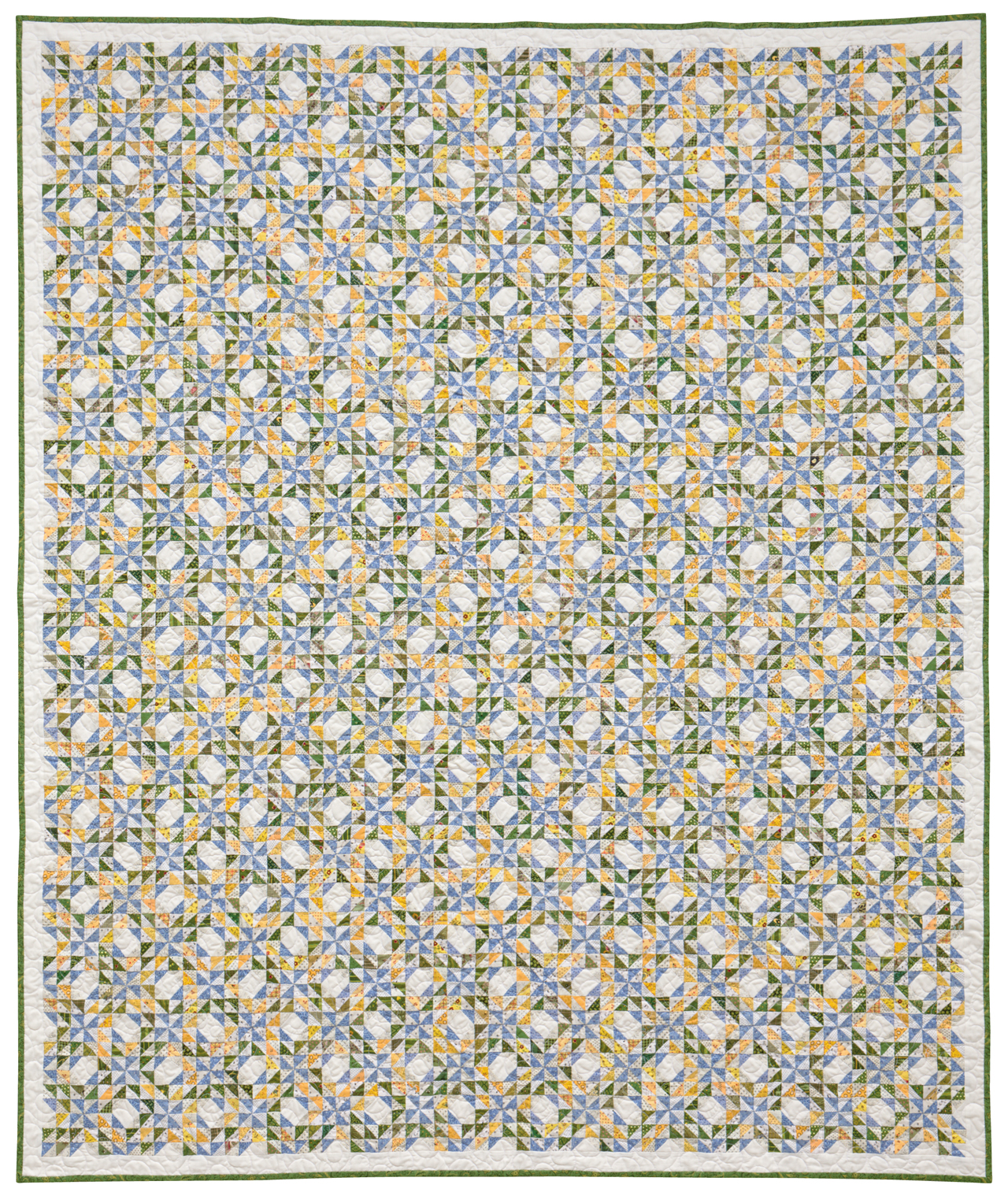 Mary Elizabeth Kinch is a professional quiltmaker, designer, teacher, speaker and co-author of two best-selling books, Small Blocks, Stunning Quilts and Small Pieces, Spectacular Quilts. Small pieced quilts make her weak at the knees. She has been a featured guest on The Quilt Show with Alex Anderson and Ricky Tims and her work has been shown at international quilt shows and juried into AQS Paducah and Quiltcon. Recently, at the Vermont Quilt Festival, her quilt "Grand Feathers" won a first-place ribbon and her quilt "Fallout" won Best Quilt Outside USA as well as a Purple Ribbon for Exceptional Merit. Her work has been featured in many international quilting publications and she is a frequent writing contributor to Curated Quilts Magazine.
Mary Elizabeth believes in "Quilting with Abandon", stretching traditional boundaries and embracing colour to create engaging quilts. She is enthusiastic about our quilting heritage and the lessons to be learned from the antique and vintage quilts she studies and collects, and this passion influences and informs her quiltmaking at all levels. Her recent work examines colour, as well as the interpretation of traditional quilt designs through "gestured appliqued lines" and the quilting stitch.
When she is not quilting, Mary Elizabeth designs interior residential projects where she uses a simple, elegant, well-edited approach, embracing colour and light, to create homes where her clients can relax and live life. She lives in Toronto and her kids would tell you she has "lots" of fabric!
May 2023 - Kathy Wylie - Hybrid
Applique quilts are among the most beautiful, jaw-dropping, crowd-pleasing and award-winning of all quilts. This lecture is all about applique.
Do you marvel over beautiful appliqued quilts and wonder how they were accomplished? You might be surprised at the number of techniques and methods that can be used to create these masterpieces. This lecture will give you some insight into the various types of applique, along with stunning photographs and real-life examples.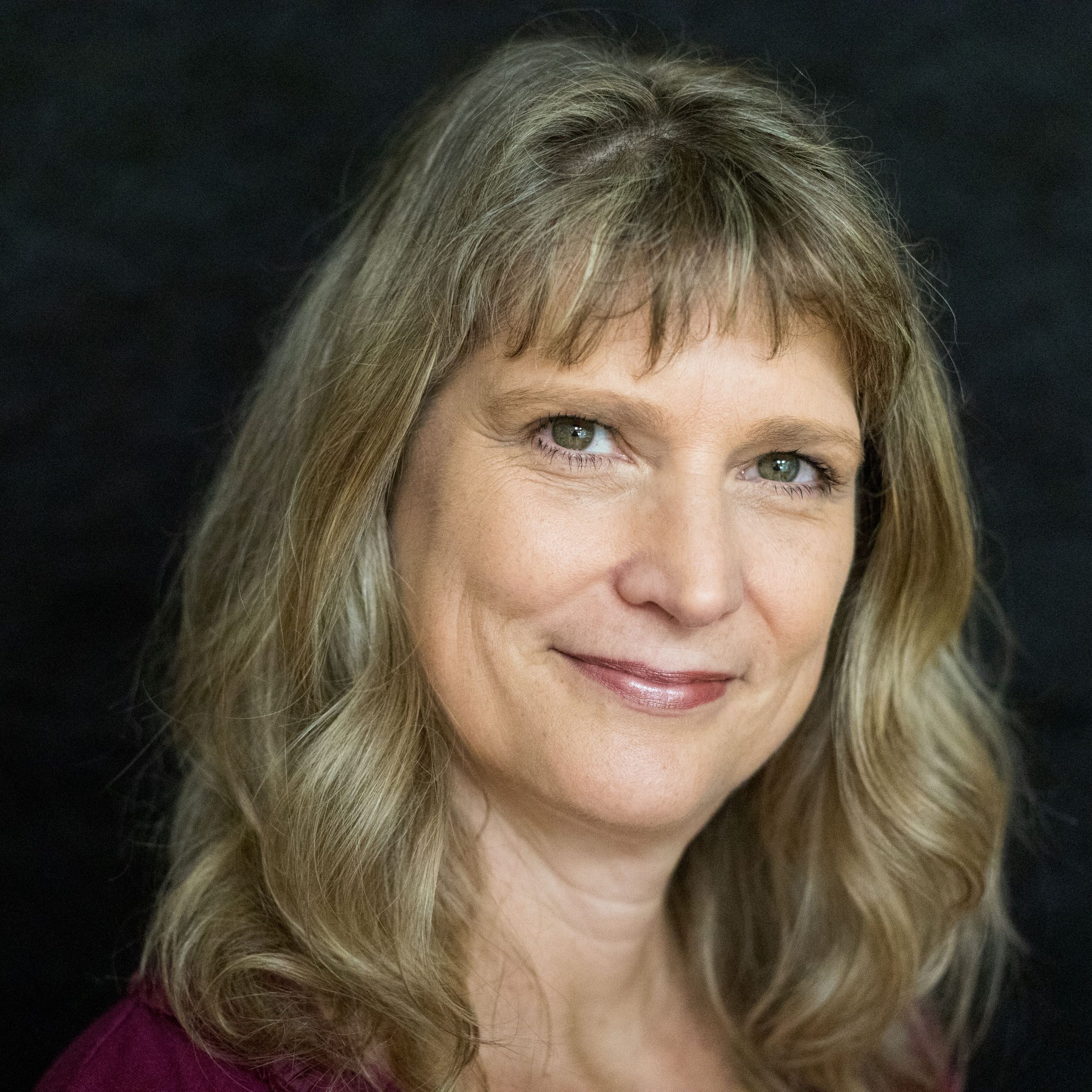 Kathy is a multiple international award-winning quilter specializing in applique, quilt design, domestic machine quilting and English Paper Piecing techniques. She lectures and teaches all over the country at guilds, shops and quilt shows and is a CQA/ACC Certified Quilt Judge. Her work has been featured in magazines, and her designs are available as individual patterns as well as in her book "Sew flakes: Papercut Applique Quilts."
June 2023 - Patti Carey - Hybrid
Using PowerPoint, Patti describes the design and printing process of quilting fabrics, using her knowledge from years of working at Northcott. You will never look at fabric the same! A Question & Answer period follows.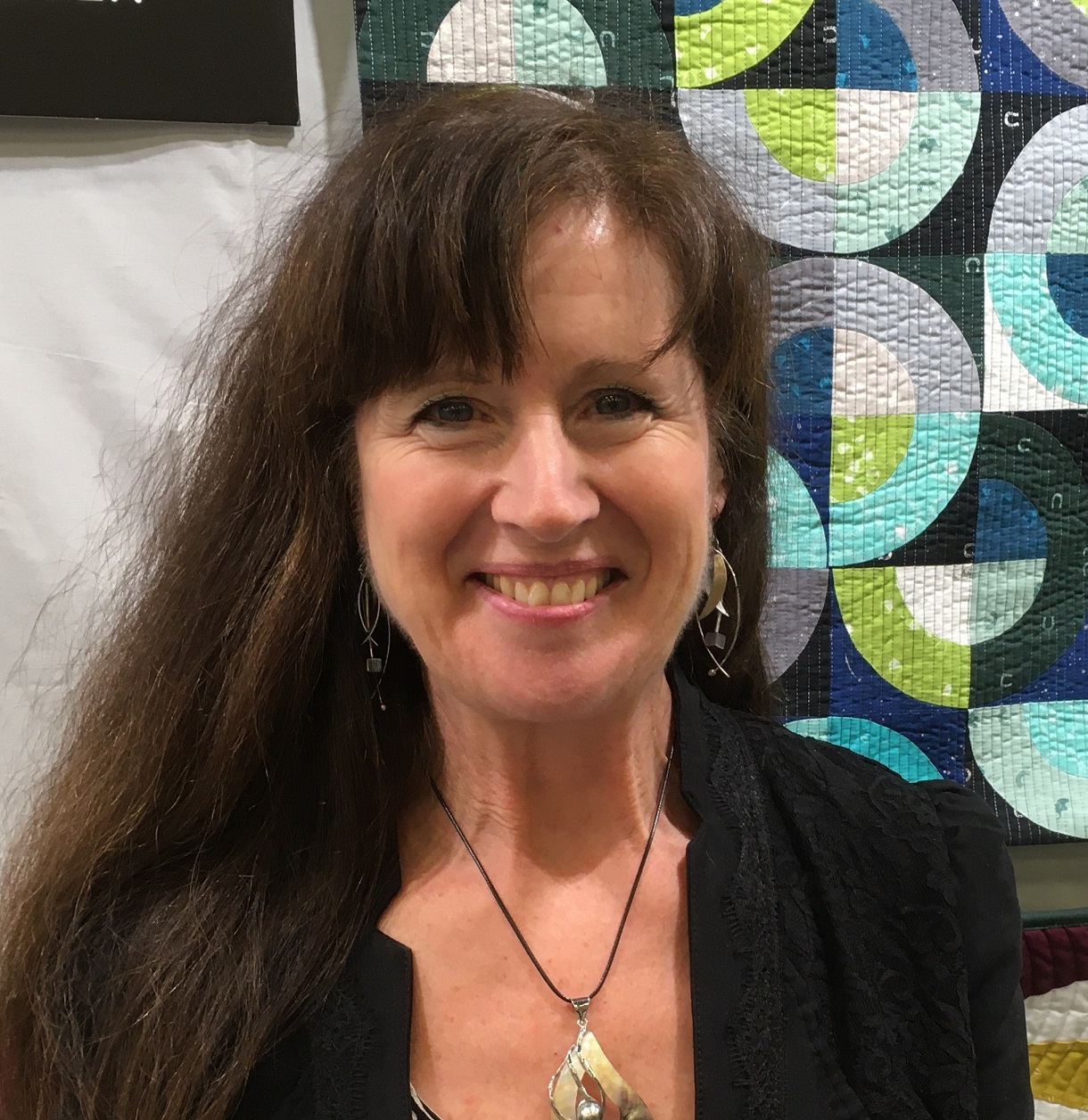 Patti is the Vice-President - Public Relations for Northcott, where she headed up the marketing/sample department from 1986 to 2012. This included co-ordinating Northcott's pattern program to support the new fabric collections, as well as liaising with the various quilting magazines, book publishers and quilt designers to provide current collections of fabric for editorial projects.
Currently, she travels to quilt guilds and shops to inspire and educate quilters with interesting and entertaining presentations on how fabric is designed, and how to use it to our best advantage. Her comprehensive line of quilt patterns utilizes efficient and time-saving techniques, and are available through her website. She has also published a book entitled, "A Taste of Napa Valley." She was a regular contributor to The Quilter magazine and continues to contribute to the Fons & Porter group of publications. In 2019, she designed her first fabric collection, Vino, for Banyan Batiks, a division of Northcott, and her 2nd collection, Canoe Lake, shipped to stores in November 2021. Most recently, she developed the E-Z Miter tool for painless mitered borders and lone stars.
Hybrid meeting details:
Members wishing to attend in-person may do so at Lakeside Church's Chapel. The church is located at 7654 Conservation Road in Guelph. All members will receive a Zoom link to meetings so those who prefer to attend via Zoom may do so.
6:30 pm (ET) Doors open for Library, Membership, Community Outreach and Show and Share sign up.
7:00 pm (ET) Meeting begins and is live streamed via Zoom to members who prefer to attend virtually
2022-2023 Invited Speakers