Our goal is to deliver 80 beautiful quilts in time for the winter holidays. Why 80? Although only 72 are needed, we would like to have a few to spare in case there is attrition.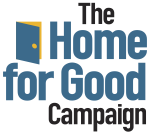 Spearheaded by the United Way, The Home for Good Campaign is a Guelph initiative to reduce chronic homelessness by 50%. The campaign has raised money to complete three projects that provide permanent supportive housing units for 72 of Guelph's chronically homeless individuals. Each resident will have a small, individual apartment (bed, private bathroom, kitchenette) with nearby support services to address mental health issues, wellness, and food security.
The Home for Good Campaign includes three community projects:
Kindle Communities Apartments is a 5-storey facility with 32 400-square-foot units and shared space fully integrated into the Shelldale community. This project is expected to open Fall 2023.
Grace Gardens, formerly Parkview Motel at 721 Woolwich Street, is a newly renovated site providing 32 individual units as well as support services for tenants. This facility is expected to open May 2023.
Bellevue Support Housing addresses the housing and support needs of youth who are experiencing homelessness. Located near downtown Guelph, this project converts a historic property into eight units, each with its own bathroom and kitchenette. The anticipated opening for this community is May 2023.
As part of our outreach to the Guelph community, Royal City Quilters' Guild is working to provide quilts to welcome these residents to their new homes.
Member Contributions
This short-term project offers members a variety of ways to contribute:
Many hands make light the work. Contact

president@royalcityquiltersguild.ca

if you would like to serve on the committee coordinating this short-term effort. This opportunity is perfect for someone who would like to volunteer for the Guild and the Guelph community but who cannot make a long-term commitment.



All lap and throw-sized quilts or quilt tops are welcome, but because adult males make up two-thirds of the population, generously-sized quilts will be especially suitable for this project. As a general guideline, we are recommending quilts approximately 60 x 80 inches in size. As always, sizes will vary based on the quilt's design.
The time and talents of quilters willing and able to quilt tops to backing and batting are always appreciated. Please stop by the Home for Good table to pick up a flimsy bundle which includes a top, batting, and backing.
Do you enjoy binding and labeling quilts? Whether you like to bind by hand or machine, we would love to have your help.
We are also seeking members to make string blocks per these guidelines [pdf] as well as volunteers to assemble completed string blocks into quilts.
Batting scraps cut into 7.5" squares are welcome contributions which will be used by members who enjoying making blocks using a quilt-as-you-go technique. For more information about some of our favourite quilt-as-you-go techniques, please see the following videos:
The Home for Good project will have a table at the Spring Fling and upcoming Guild meetings. Alternatively, you may also do a porch drop off/pick up by contacting Ann Jeffrey (contact information is in the Guild directory). Please consider:
Dropping off a contribution (string blocks, quilt tops, batting squares, completed quilts);
Picking up a bundle to complete; or
Picking up a quilted item to label and bind.
Royal City Quilters' Guild appreciates the generous financial support of the Guelph Lions Club who are helping us wrap some of Guelph's most vulnerable members in a quilt.
Visit the Project Photo Album