Ruler Work With Domestic Sewing Machines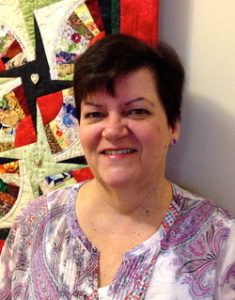 Instructor: Robin Bogaert
Cost: $36
Date: Wednesday, November 30, 2022 from 11:00 am to 5:30 pm (Eastern)
Location: Online via Zoom
Website: https://www.quiltingintheloft.com/
Workshop Description:
This virtual class is designed for beginners with ruler work for domestic machine quilting or for those who have tried rulers before but need additional design inspiration.
Robin discusses many tips for success along with demonstrations showing how to use Westalee, Angela Walters, Handiquilter, Bernina rulers and more. In this demo and practice format class, Robin will show how to use straight, arcs, circular, wavy, spinning and combine rulers to start you thinking about many ideas to add beautiful quilting designs to your quilts
This class will get your ruler work thoughts and ideas flowing to add thread artistry to your beautiful quilts right at home.
Students will receive a supply list and pre-class prep list a minimum of four weeks prior to the class.

Instructor Bio:
Robin Bogaert is a long arm quilter, owner and creator of quiltingintheloft.com and has many years of quilting experience. She is the past owner of a quilt shop in Windsor, Ontario and is now located in Waterloo. Robin's roots in quilting are traditional, however she appreciates modern quilt design and considers the focus of work to be designing, teaching, free motion quilting and thread painting. Robin is a past member of Windsor Quilters Guild, Erie Shores Guild and Waterside Quilters and keeps up to date with current quilting and sewing by being involved with the Elmira Needle Sisters and Waterloo County Quilter's Guild. The tri city areas included in Waterloo Region sponsor an abundance of quilt related activities and resources along with lovely farms, local grown produce and a thriving arts community and therefore Robin is excited about her contribution to the quilting community.

In addition to blogging for quiltingintheloft.com, Robin custom quilts for others with her Long Arm Machine, teaches classes, shows her quilts (in Ontario and other provinces in Canada), designs patterns and sells some of her patterns at her website.

Instructor: David Owen Hastings
Cost: $70
Date: Saturday, February 4, 2023 from noon to 6 pm (Eastern)
Location: Online via Zoom
Website: https://davidowenhastings.com/
Workshop Description:
David will guide you through a creative process for designing your own modern abstract quilts, taking inspiration from architectural photos to develop dynamic and unique quilt designs.
Instructor Bio:
David is a quilter, graphic designer, print and textile artist, and a former President of the Seattle Modern Quilt Guild. He creates contemporary art and modern minimal quilt and textile designs. David's creative approach to modern quilting has led to a busy schedule of workshops and lectures on quilting, branding for artists, art and textile techniques.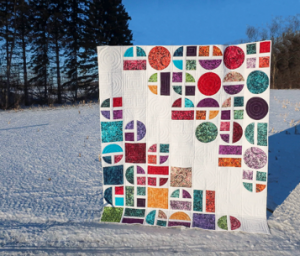 Instructor: Paul Leger
Cost: $25
Dates: Saturday, March 25, 2023 (pt 1) and Saturday, April 1, 2023 (pt 2) from 10:30 to 1:30 (Eastern)
Location: Online via Zoom
Website: http://www.paullegerquilts.com/
Workshop Description:
In two half-day sessions, Paul will teach the required skills to create this modern quilt that finishes at 78" x 89". Paul will guide you through the process to make this fun piece.
Instructor Bio:
Paul lives in Ottawa, where he retired after working for the federal government for over 16 years. Before that, he spent 21 years in the Canadian Armed Forces. He began quilting in May 1990. His mother, a quilter and dressmaker, had encouraged him to buy a sewing machine "for sewing emergencies." One day, he remembers in the "old days" people would use clothing to make bed quilts.
In retirement, Paul's quilting has taken on another life. He doesn't quilt any more or any less but now is asked to teach and make presentations as well as to contribute to magazines and blogs.

Design Possibilities of the 60 Degree Diamond Ruler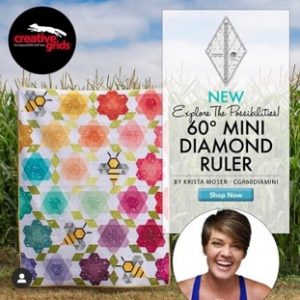 Instructor: Krista Moser
Cost: $35
Dates: Saturday, April 29, 2023 from 11 am to 5:30 pm (Eastern)
Location: Online via Zoom
Website: https://www.kristamoser.com/
Workshop Description:
How does Krista come up with so many fresh designs? Find out in this design-focused workshop featuring her 60 degree diamond ruler by Creative Grids.
Instructor Bio:
Krista Moser is the creative force and inspiration behind Krista Moser, The Quilted Life. A sewing enthusiast and quilt pattern designer, she has published more than 30 patterns since 2016 with more in development. She is the designer of the Creative Grids 60 Degree Diamond Rulers and has been teaching sewing and quilting lessons for more than 25 years. Her work has been featured in quilting magazines, published in books, and hung in prominent quilt shops around the country. She is wild about all things quilting and loves to share her passion.
Come learn from Krista all the tips and tricks for cutting and piecing diamonds, triangles, and hexagons in an easy, fast, and precise way. If you have been wanting to break out of the same old quilting routine and try something different, her classes will inspire confidence and equip you with new techniques.