Welcome to workshops for the 2021-2022 guild year!  All workshops described below will meet virtually. Please register soon to secure your seat at the RCQG Online Store
Download the 2021-2022 Programs, Workshops, and Events Schedule [pdf]
When: Saturday, November 20, 2021
Cost: $10
Instructor: Adriana Fagan
Location: Online Zoom Meeting – 9:30 am to 12:30 pm (Eastern).
Adriana loves making scrap quilts and has recently gone wild for strings! Learn a bit of string quilt history and see the amazing quilts you can make with your cut-offs. Adriana will show many examples and teach a few basic blocks during this 3-hour workshop.
Please have the following supplies ready for class: scraps, strips and strings (less than 2") in a mix of darks and lights; pencil; ruler; and basic sewing supplies. You will also need paper to serve as foundations. Newsprint, old phone book pages or other thin paper works well.
Adriana's quilting career began 40 years ago when she started making quilts for Cabbage Patch dolls and progressed from that humble beginning. She a learned a lot on her own, took a few classes, and fondly remembers the innovation of the rotary cutter.
She lives in Guelph with her husband. She dotes on her children, grandchildren and great-grandchild when she's not in her quilting studio. Her entire family has more quilts than they need so Adriana spends most of her quilting time sewing for charity --- a focus and pastime that brought her great comfort throughout the coronavirus pandemic.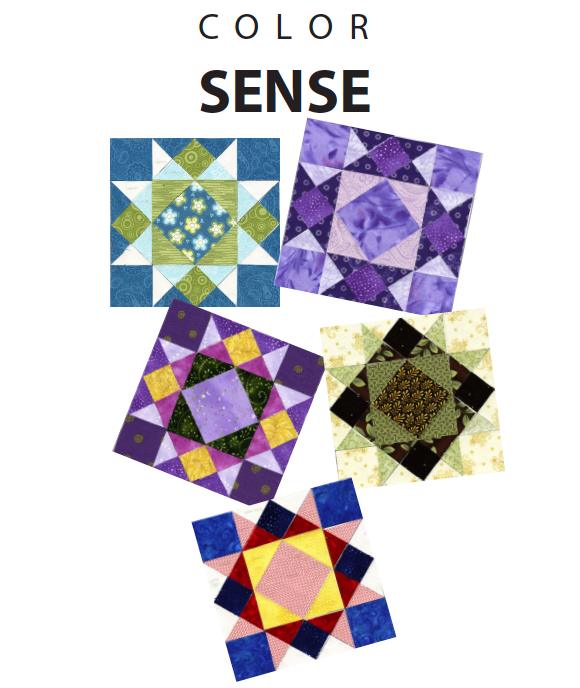 When: Saturday, February 19, 2022
Cost: $65 includes kit fee
Instructor: Annie Smith
Location: Online Zoom Meeting – 9:00 am to 3:30 pm (Eastern). We will take a 30-minute break for lunch.
Would you like receive your class kit digitally or pick up at one of the Community Outreach bin locations? Please let us know your preference here.
Download pre-class preparation notes here
Every quilter thinks they have a problem with colour – when in fact, they need to know more about fabric. Learn exactly what draws the eye to interesting designs and patterns in quilts to give them life. We discuss keys to effective fabric selection in this workshop, apply hands-on design exercises, and create a resource binder you will use again and again. Kit fee includes the pattern for the 1:10 quilt which uses one magical block pattern and ten fat quarters for a totally unique quilt.
Annie Smith is a quilt imagineer, author, national and international quilt instructor and a podcaster. She's a BERNINA Artisan Ambassador, an Aurifilosopher, a LauraStar Ambassador, is an iQuilt instructor and an Annie's Craft Store instructor — in addition to producing her own online classes. Her areas of expertise are color and fabric choices and machine applique of which she's written two books for C&T Publishing. You could say that Annie's life is filled with quilts, and she knows a thing or two about quilting.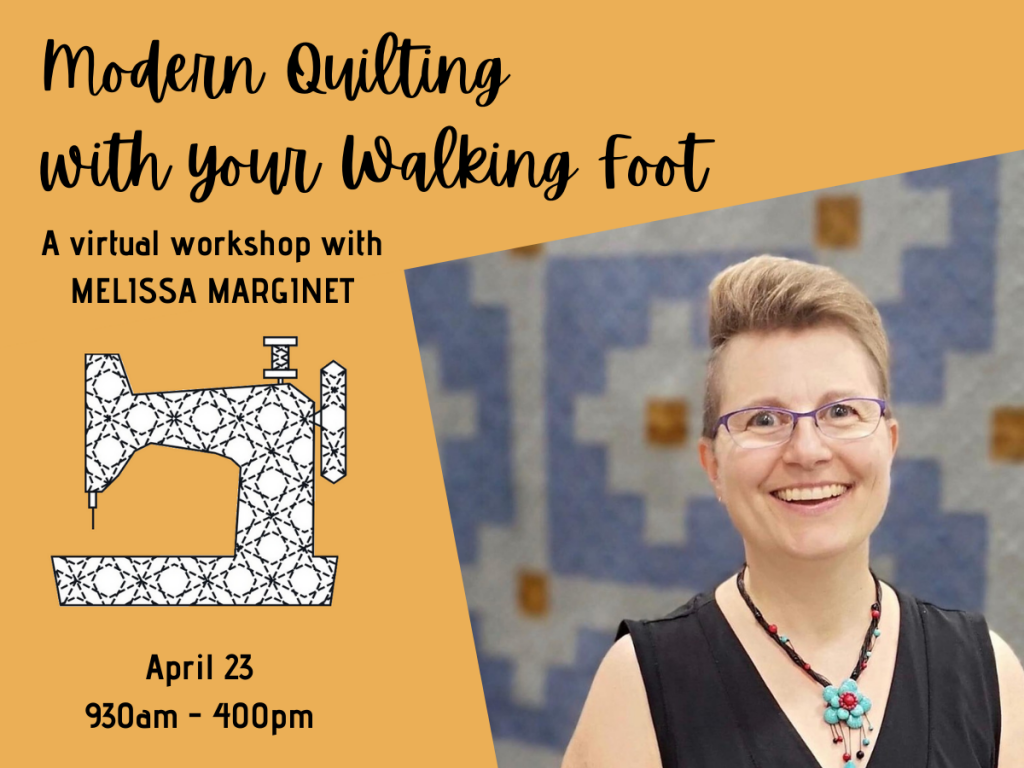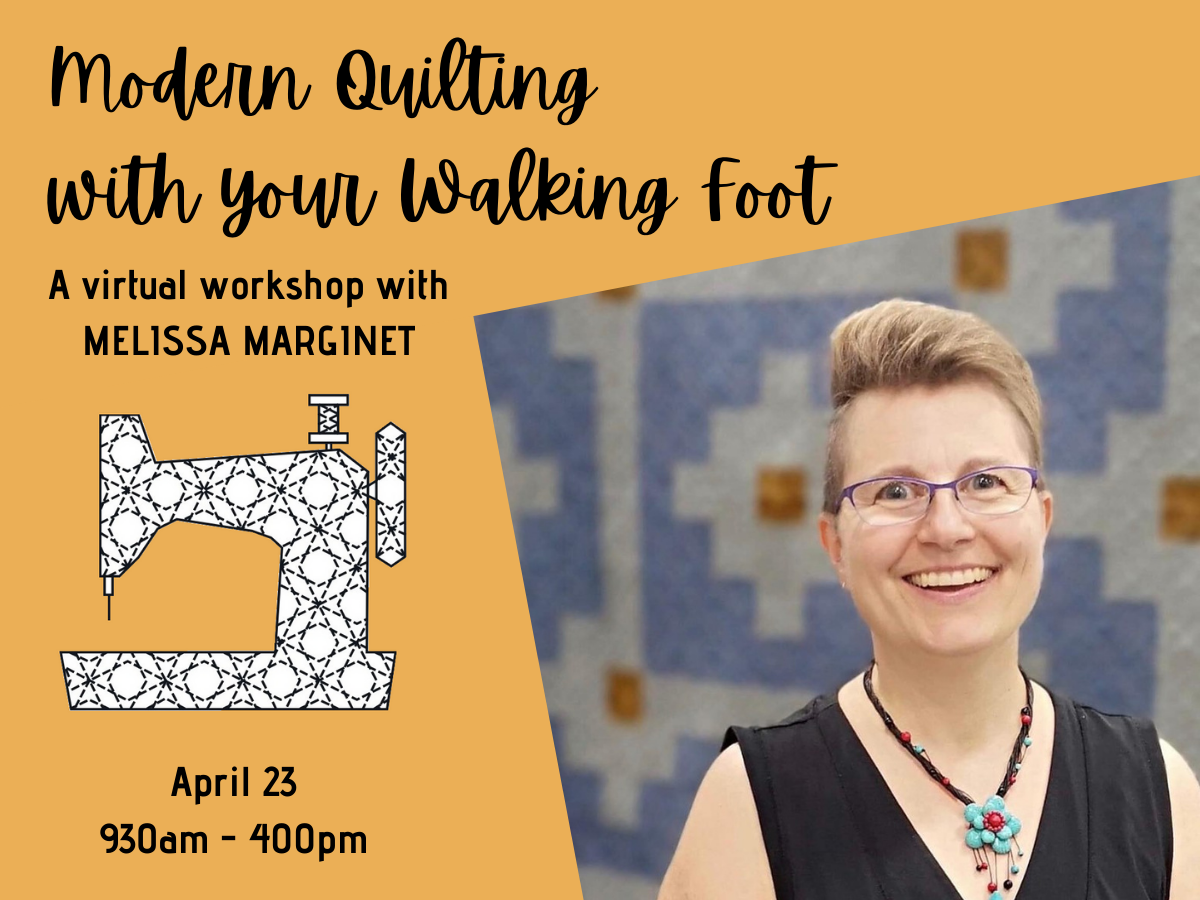 When: Saturday, April 23, 2022
Cost: $30
Instructor: Melissa Marginet
Location: Online Zoom Meeting – 9:30 am to 4 pm (Eastern). We will take a 30-minute break for lunch.
Download pre-class preparation notes here
Not everyone can afford a longarm quilter or wants to have someone else quilt their quilt, and not everyone enjoys free motion quilting. As a participant in this class, you will make samples of different quilting ideas that can be executed on the home sewing machine with a walking foot. You will create samples of walking foot designs on small quilt sandwiches to help you understand what makes each design successful. We will also look at variations of the designs you stitch out. These samples will be a great reference for you when deciding how to quilt your next quilt. This class includes information on quilting all sizes of quilts on the home sewing machine. - ALL LEVELS
Melissa Marginet is an avid quilter whose passion is to teach and inspire other quilters. She is known for quilting with a walking foot and travels Canada to teach her techniques and empower quilters to quilt their own quilts on their home sewing machines. She has published two books, "Walking Foot Quilting Designs" and "Edge-to-Edge Walking Foot Quilting Designs" as well as several quilt patterns. Melissa was juried into the 2020 NJS with a quilt featuring the technique from her second book. You can visit her website melissamarginet.ca to find out more about her and see her work.
Book recommended: Walking Foot Quilting Designs
Melissa Marginet
Author: Walking Foot Quilting Designs / Edge-to-Edge Walking Foot Quilting Designs
Etsy: www.Etsy.com/shop/melissamarginet
Website: www.melissamarginet.ca
Instagram: @melissamarginet
Facebook: Melissa Marginet - Quilter
YouTube: https://www.youtube.com/c/melissamarginet