Our monthly meetings are held at 7pm on the 2nd Tuesday of each month, from September through June. Monthly meetings are virtual, and a link to the meeting will be emailed to all members and registered guests the day before the Guild's Meeting. In 2023 - 2024, the meeting dates are:
- September 12, 2023
- October 10, 2023
- November 14, 2023
- December 12, 2023
- January 9, 2024
- February 13, 2024
- March 12, 2024
- April 9, 2024
- May 14, 2024
- June 11, 2024

December 2023 - Liz Thomson
One Dozen Ways to Bind Your Quilts
Yes! Let's explore how you can spice up your quilts with different finishes. Powerpoint and trunkshow with demo's of some of the techniques.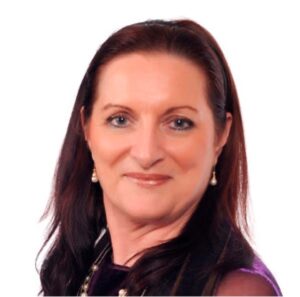 Liz has been a passionate sewer since the age of 9. More than 30 years ago she started quilting as "therapy" to ease homesickness after a move far away from where she grew up. She never looked back after that – sewers & quilters truly are super friendly and supportive around their common passion! Her favourite sewing is applique/quilting; machine embroidery; and garment sewing including sewing bras & other lingerie. She recently "retired" from a long career in the sewing industry and continues to share her sewing and quilting skills through her www.sewwithliz.com business as well as through her various Social media pages and groups (Instagram, Facebook, Pinterest and You Tube).
Liz is a very proud Canadian living in Surrey, BC – although she does have a different accent as she was born and raised in Africa before emigrating to Canada almost 25 years ago!

January 2024 - Shannon Fraser
Improv Through Pattern Project Scraps
Ever wondered what to do with those fabric scraps leftover from tackling a quilt pattern? Try improv! In this lecture, Shannon walks you through how she set herself up to make the most of project fabric scraps and how she uses it as an opportunity to let loose and channel her creativity. This is all about discovering the possibilities that can be created from leftovers and thinking outside the quilty box! Shannon shares quilts she's created using this approach and tips on how you can use this approach in your own quilty practice. Quilting is expensive, let's maximize our fiber dollars!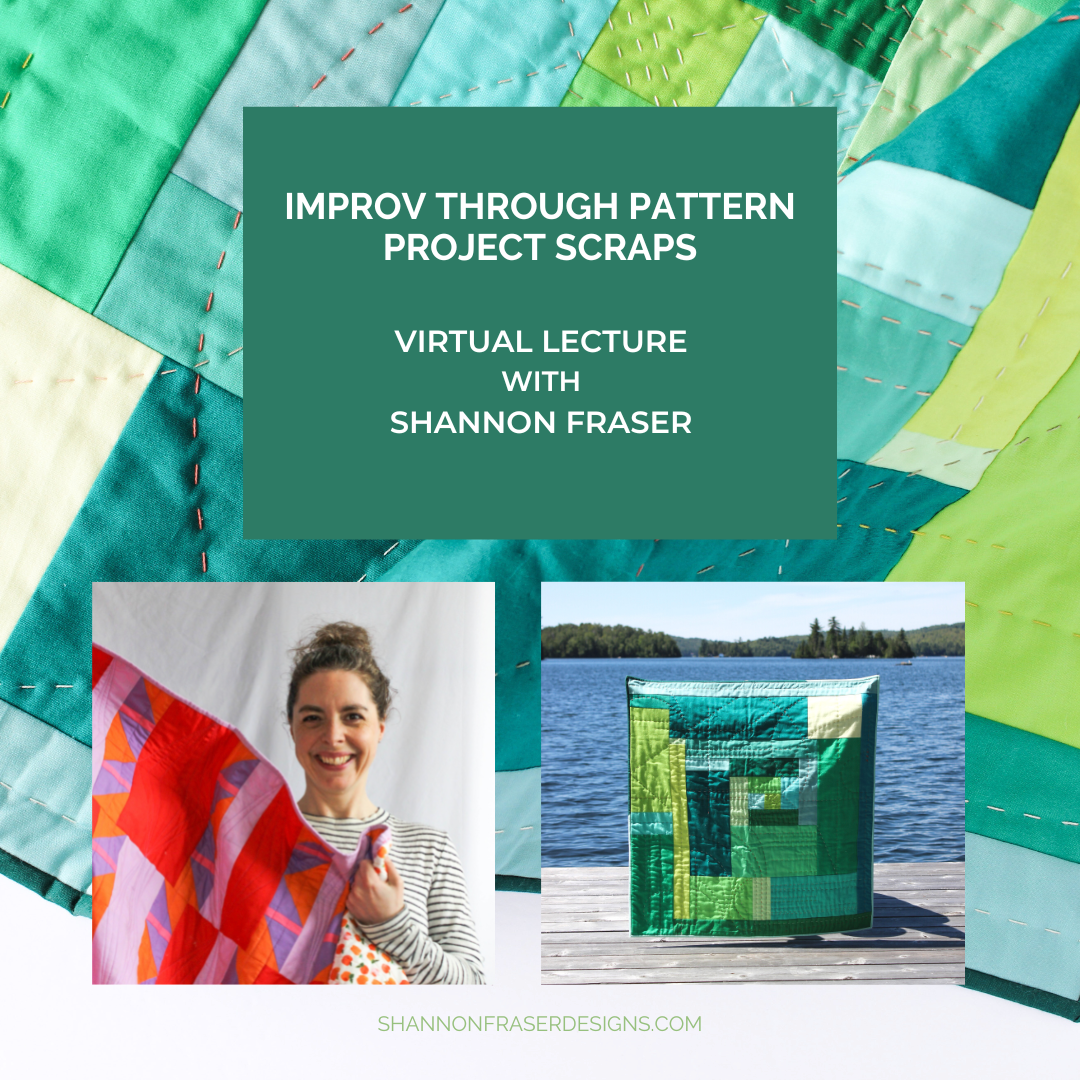 Shannon Fraser is an award-winning modern fiber artist, teacher, and quilt pattern designer, based in Montreal, Canada. Having initially discounted quilting as an interest, she's now on a mission to spread quilty joy through her modern quilt patterns, lectures, and workshops. Known for her love of bold vibrant colours, Shannon enjoys exploring texture using different fabric substrates and thread play. You can find free tutorials, inspirational projects and loads of resources to help you succeed in your quilting journey on her website (www.shannonfraserdesigns.com). For daily inspiration, you can find her on Instagram @shannonfraserdesigns
February 2024 - Brita Nelson
Now You See It, Now You Don't. The Magic of Disappearing Blocks
Learn about the magic and beauty of disappearing blocks with this interactive online lecture, demo and trunk show. Using 3 cameras, one on her and the quilts, one pointing straight down at the cutting mat, and one close-up on the quilts, Brita will be able to show you how easy it is to turn simple blocks into beautiful complex patterns. Using the Zoom format you will be able to ask questions for her to answer during the presentation. She will also show you how different block designs can be enhanced by colour choices or slight modifications to make even more interesting full quilts.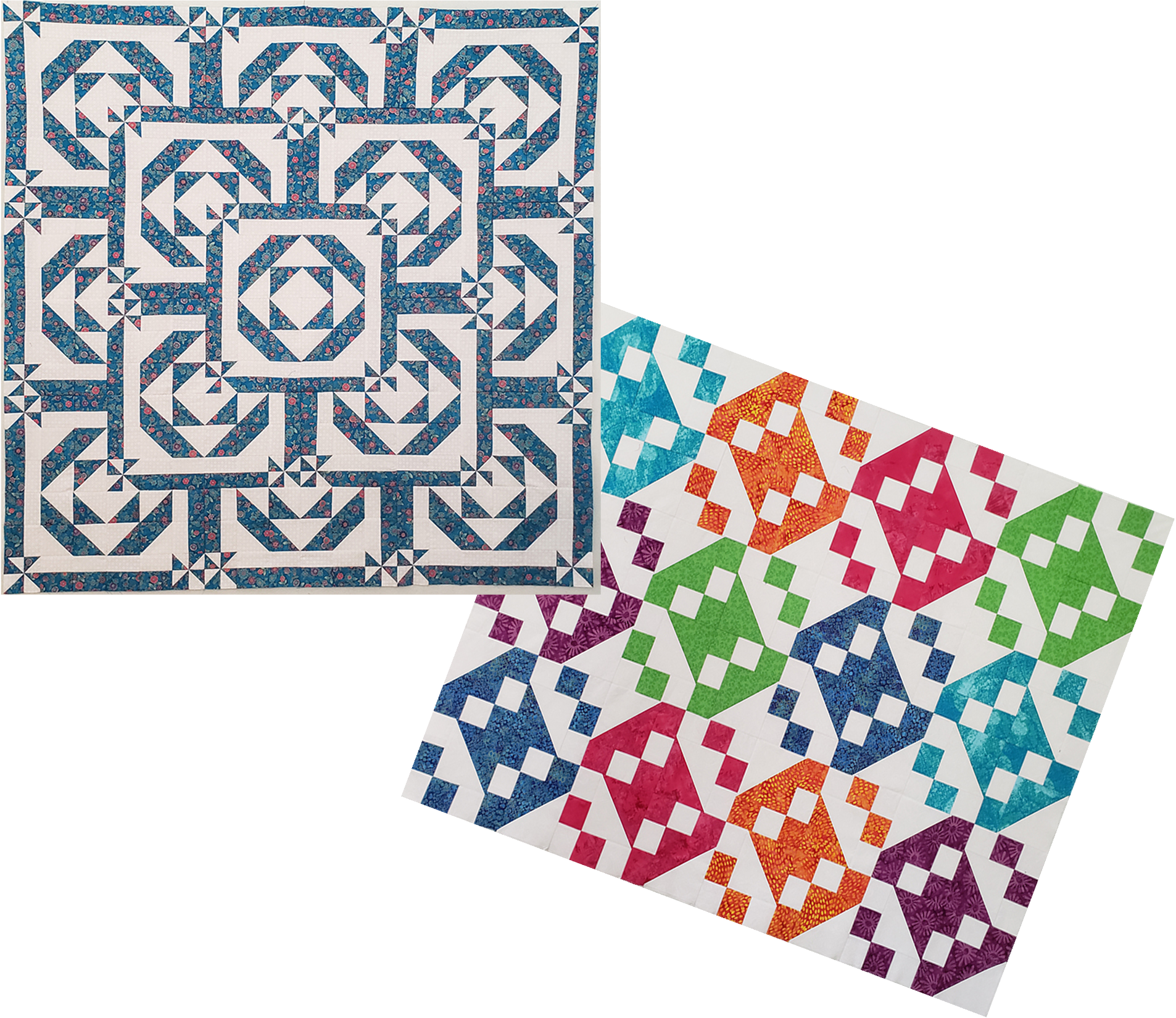 Brita is an award-winning quilt artist and teacher with over 30 years experience. I was a chemical engineer in my previous life and I brought that passion for knowledge and improvement into my quilting endeavors. I love sharing what I have learned by writing, speaking, demonstrating and teaching.

March 2024 - Collette Dumont
Collette Dumont Trunk Show
Collette uses a mix of embroidery, appliqué, and bling to finish her award-winning quilts.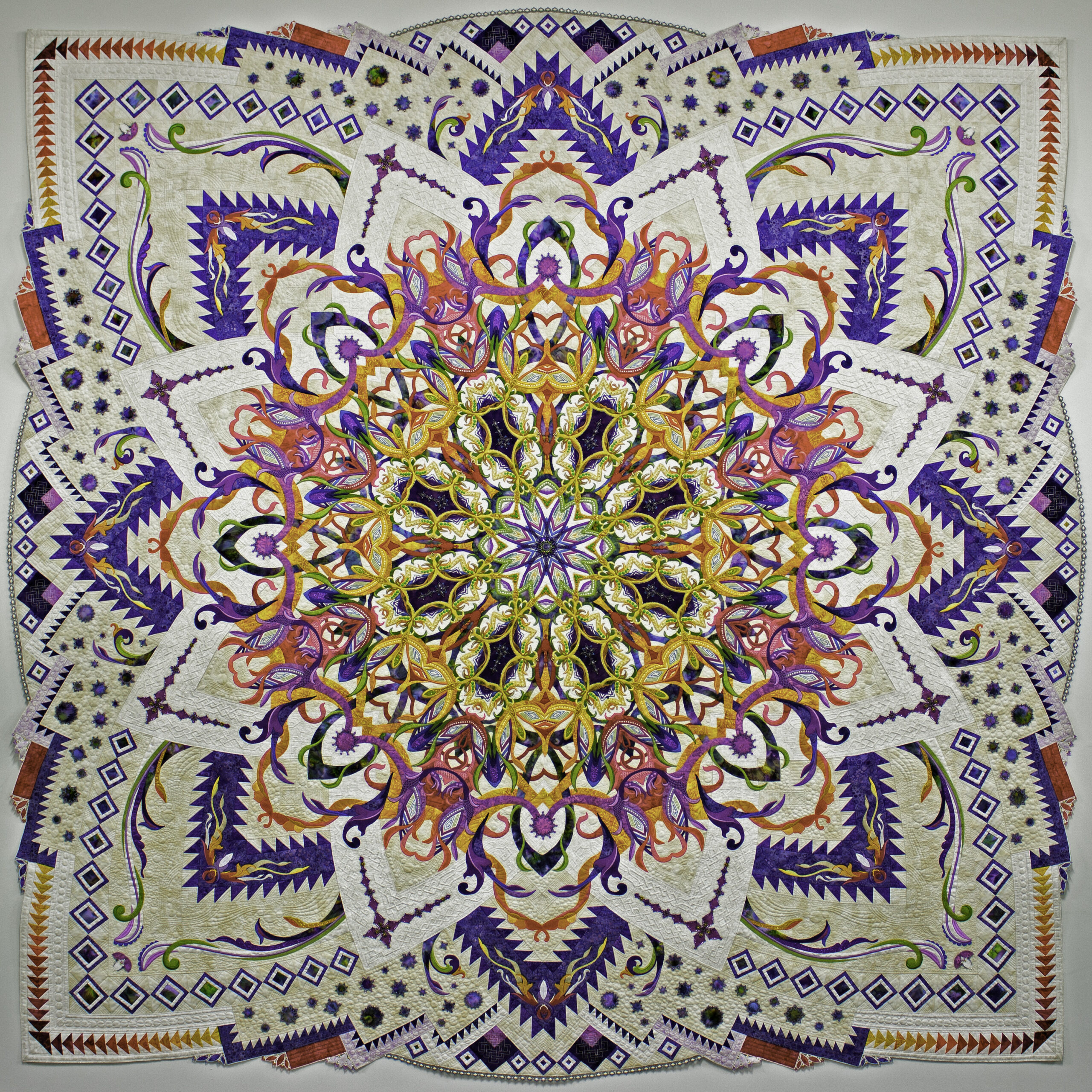 Collette Dumont is a dairy farmer and maple syrup producer. She and her partner live on the ancestral dairy farm in St-Romain, Québec. When she finds time, she goes to her little sewing room and makes award-winning quilts that are juried into quilt shows in Canada and the US. She has appeared as a guest on TheQuiltShow.com
April 2024 - Valerie Prideaux
One Block Quilts That Focus on Colour!
Join Valerie on her journey with quilts that range from simple to modern, bed quilts to pillows to art quilts. Be inspired by her design layouts and see how she plays with colour using the humble tumbler block.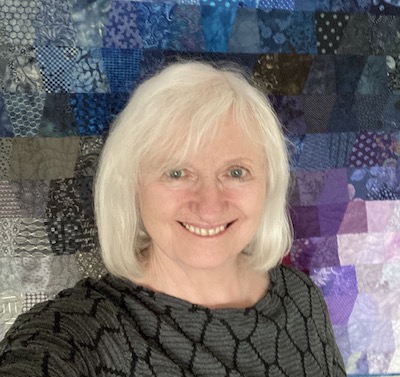 Valerie lives in Toronto and has been quilting for 15 years. She has belonged to three separate guilds in the city as well as SAQA. You might be familiar with Valerie from her work at Quilts at the Creek or QuiltTalk.
May 2024 - Sandy Lindal
Confessions of a Scrapaholic
Sandy's trunk show is called "Confessions of a Scrapaholic". She takes you through a lighthearted journey of quilting with friends. Her one-hour trunk show includes approximately 45 quilts. She is currently working on a series of quilts and workshops attempting to modernize old stash. We all have too much old stash and Sandy loves to encourage you to use it up, and think about it in a whole new way.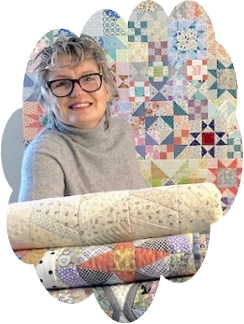 Sandy, a former pattern maker/stylist and clothing manufacturer, found her passion when she discovered quilting. She soon developed her skills into a thriving long-arm quilting business. During COVID she collaborated with Valerie Prideaux in organizing 'Quilt Talk', together they delivered a diverse selection of leaders and innovators in the quilting community via Zoom. They covered every topic imaginable as long as it was quilting related.
Sandy is about to launch her second Scrap Sewciety BOM all in an effort to help you win the stash battle.
June 2024 - Timna Tarr
Flying Colours Trunk Show
Timna is known for making fun, colourful, award-winning quilts. Join her for a trunk show of her quilting journey. She talks about her design and colour choices as well as the personal stories behind the quilts.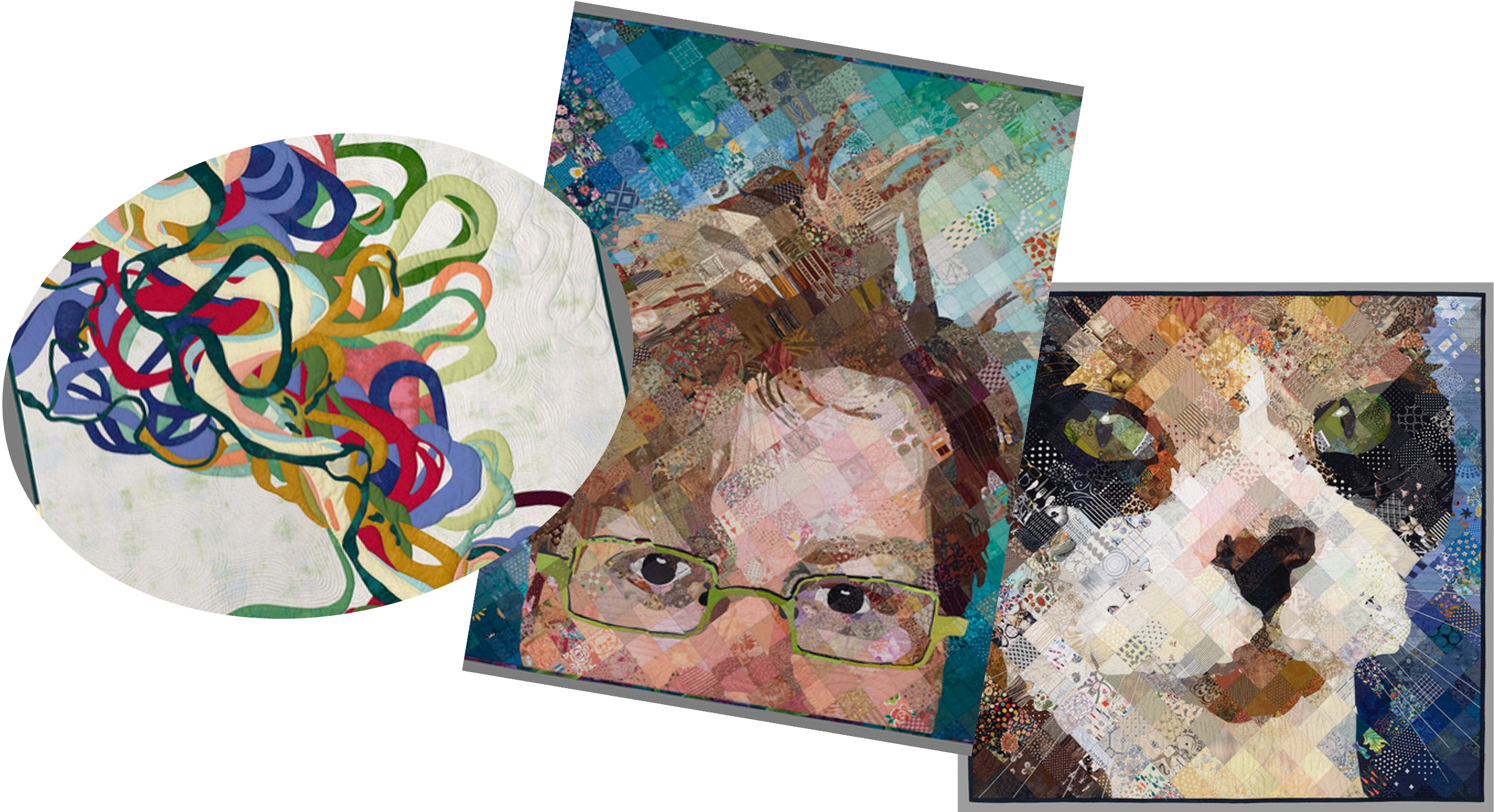 Timna Tarr comes from a long line of quilters but did not begin quilting until after studying art history in college. She bought her first longarmin 2001 and began quilting clients' quilts shortly thereafter.
Timna's own nationally award-winning quilts are in private and corporate collections and been seen in exhibits, publications, and on The Quilt Show and Quilting Arts TV. Timna is a designer for Studio e Fabrics, the author of Stitched Photo Mosaic Quilting, and is an in-demand teacher and speaker. She lives in South Hadley, Massachusetts.
September 2023 - Robin Bogaert
Robin has a vast body of quilting work since 1999 and a trunk show lasting at least 45 minutes+along with a story of her "Significant Quilts". This trunk show is sure to inspire.
Robin is a long arm quilter, owner and creator of quiltingintheloft.com and has many years of quilting experience.

She was the past owner of a quilt shop in Windsor, Ontario and is now located in Waterloo. Her roots in quilting are traditional, however she appreciates modern quilt design and considers the focus of work to be designing, teaching, free motion quilting and thread painting. Robin is a past member of Windsor Quilters Guild, Erie Shores Guild and Waterside Quilters and keeps up to date with current quilting and sewing by being involved with the Elmira Needle Sisters and Waterloo County Quilter's Guild. The tri-city areas included in Waterloo Region sponsor an abundance of quilt related activities and resources along with lovely farms, local grown produce and a thriving arts community and therefore Robin is excited about her contribution to the quilting community.
In addition to blogging for quiltingintheloft.com, Robin custom quilts for others with her Long Arm Machine, teaches classes, shows her quilts (in Ontario and other provinces in Canada), designs patterns and sells some of her patterns here.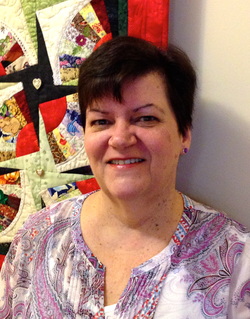 October 2023 - Irena Swanson
Tube Piecing - Beyond Bargello

Tube piecing is an enhanced version of strip piecing; it is to strip piecing as strip piecing is to traditional piecing: more efficient and more accurate. You get to experience quilting from a new point of view: it is often about cutting large constructions down rather than building from small pieces up.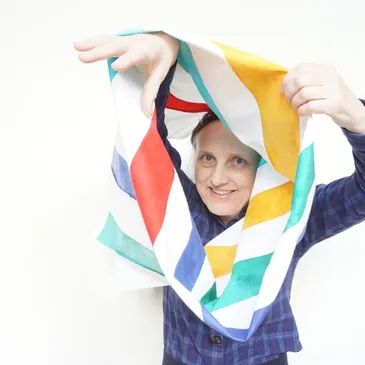 Irena Swanson has been developing tube piecing for several years. She has used it to make many projects quickly, efficiently, and accurately: all-over triangle quilts, zigzag patterns with triangles and parallelograms, flying geese, pinwheels, double pinwheels, ocean waves, LeMoyne stars and other stars, sawtooth border, bear's paw, lady of the lake, square in a square, square in a parallel square, diamonds in rectangles, 3x3 diamonds in a square, 2x3 diamonds in a rectangle, 2x5 parallelograms in a square, ... hourglass blocks, seamless double and triple hourglass blocks, hexagons in halves, hexagons in triangles, tumbling blocks, paired peaks (her own design), Roman stripes, milky way, Indiana puzzle/snail's trail, Japanese puzzle, hearts and flower buds, rail fence, storm at sea, log cabin, courthouse steps.

November 2023 - Stephanie Hackney
Cotton, wool, silk, bamboo, combos, fusibles. This talk helps quilters decide when to use different kinds of batting and how to care for the quilts that result.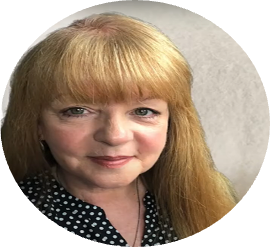 Stephanie is the Director of Sales & Marketing, Craft & Retail Products for Hobbs Bonded Fibers in Waco